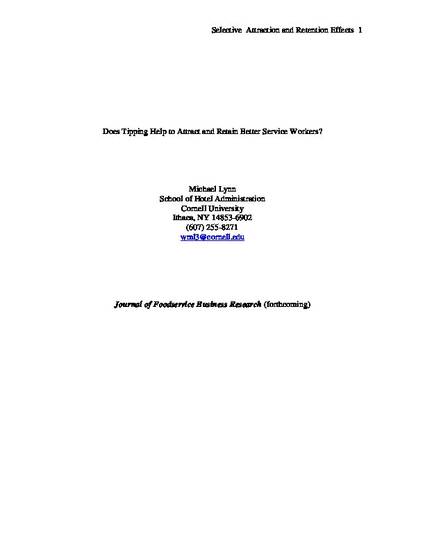 Article
Does Tipping Help to Attract and Retain Better Service Workers?
Journal of Foodservice Business Research (2016)
Abstract
A survey of several hundred restaurant servers in the United States found that servers' attitudes toward working for tips and average tip sizes were weakly related (at best) to their service-orientation, intended job-tenure, and occupational-tenure. These findings suggest that tipping does not substantially help to attract and retain more service-oriented workers. Restaurateurs can eliminate tipping at their restaurants without fear that doing so will reduce the quality of their wait-staff.
Keywords
tipping,
compensation,
turnover,
occupational choice
Publication Date
June 30, 2016
DOI
10.1080/15378020.2016.1195218
Citation Information
Lynn, W. M. (2016). Does tipping help to attract and retain better service workers? [Electronic version]. Retrieved [insert date], from Cornell University, School of Hotel Administration site: https://works.bepress.com/michael_lynn/