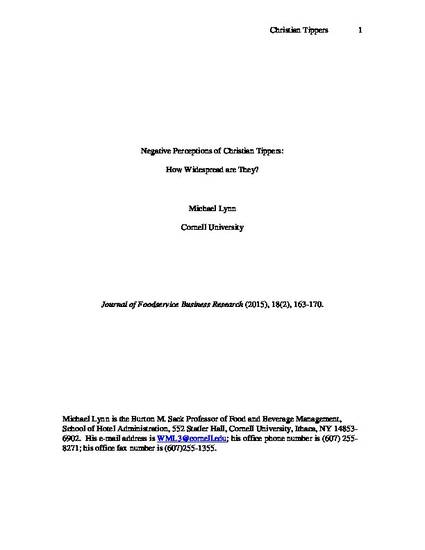 Article
Negative Perceptions of Christian Tippers: How Widespread are they?
Journal of Foodservice Business Research (2015)
Abstract
An internet survey of a large sample of restaurant waiters and waitresses found that many servers across the United States perceive Christians as bad tippers. This perception is too prevalent to simply ignore. Managers of tipped employees who must serve Christian customers and Christians concerned about the public image of their faith should both strive to learn whether the perceptions are accurate and, if they are accurate, which subset or subsets of Christians tip poorly and why. Such information would inform efforts to change inaccurate perceptions via corrective informational campaigns directed toward servers or to identifying those subsets of Christians who tip poorly and encourage them to tip more generously.
Keywords
Christians,
religion,
tipping,
pro-social behavior
Publication Date
May, 2015
Citation Information
Lynn, W. M. (2015). Negative perceptions of Christian tippers: How widespread are they? [Electronic version]. Retrieved [insert date], from Cornell University, School of Hotel Administration site: http://scholarship.sha.cornell.edu/articles/x