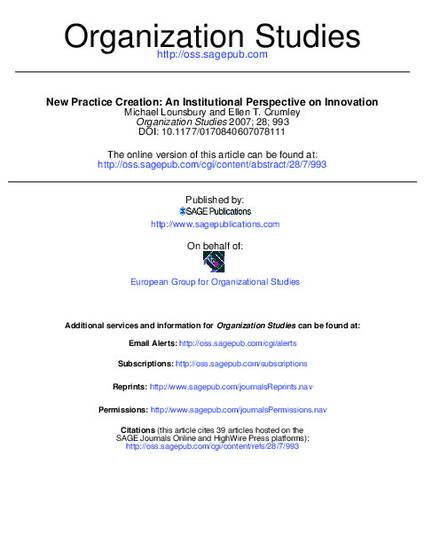 Article
New Practice Creation: An Institutional Approach to Innovation
Organization Studies (2007)
Abstract
Neoinstitutionalists have developed a rich array of theoretical and empirical insights about how new practices become established via legitimacy and diffusion, but have paid scant attention to their origins. This blind spot has been reinforced by recent work on institutional entrepreneurship which has too often celebrated the actions of a single or small number of actors, and deflected attention away from the emergent, multilevel nature of how new kinds of activities emerge and provide a foundation for the creation of a new practice. In this paper, we examine the case of the creation of active money management practice in the US mutual fund industry, drawing on both institutional and practice scholarship, to develop a process model of new practice creation that redirects attention toward the multiplicity of actors that interactively produce change.
Keywords
institutional theory,
practice,
entrepreneurship,
innovation,
finance,
mutual funds
Citation Information
michael lounsbury. "New Practice Creation: An Institutional Approach to Innovation"
Organization Studies
Vol. 28 (2007)
Available at: http://works.bepress.com/michael_lounsbury/5/