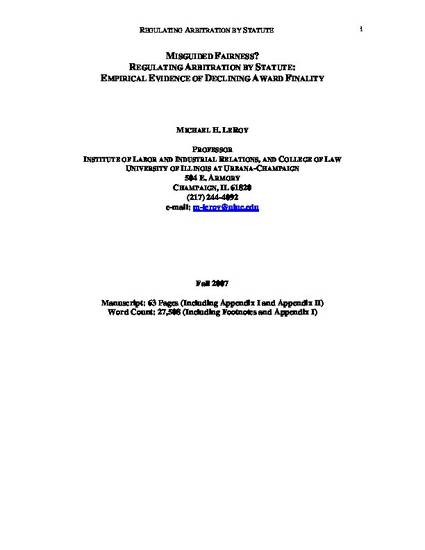 Unpublished Paper
MISGUIDED FAIRNESS? REGULATING ARBITRATION BY STATUTE: EMPIRICAL EVIDENCE OF DECLINING AWARD FINALITY
ExpressO (2007)
Abstract
The Federal Arbitration Act (FAA) created a national policy that promotes arbitration. Congress passed this law to end judicial hostility to arbitration. So far, no one has questioned this premise. My Article shows, however, that nineteenth century courts enforced arbitrator awards, even those that failed to conform to "technicalities and niceties." Acting on the mistaken advice that judges excessively interfere with arbitration, Congress enacted a law that transfers oversight of arbitration from the judiciary to legislatures.
This change is affecting how court reviews arbitrator awards. I collected data in 426 federal and state court rulings in employment disputes from June 1975 through April 2007. Federal district judges confirmed 92.7% of arbitrator awards, compared to 78.8% for state courts. This statistically significant difference was also observed for appellate courts, where the confirmation rate in federal courts was 87.7%, contrasted to 71.4% for state courts.
The anomalous structure of the FAA explains why federal courts are more deferential than state courts. The statute allows litigants to choose federal or state court to challenge an award. In federal court, the standard of review is among the narrowest in the law. Oddly, however, the FAA also allows states to define their own standards. Fewer states now replicate the FAA, as a growing number adopt more intrusive standards.
The Revised Uniform Arbitration Act is exacerbating this situation. Passed in 2000, RUAA has been enacted by 12 states— and the number is likely to grow. RUAA aims to curb recent abuses in arbitrations by legislating fairness into arbitration. However, by strictly regulating arbitrator disclosures, and limiting arbitrator powers to order attorney's fees and other relief, RUAA creates new and more conditions that erode the finality of arbitration decisions.
Fairness principles in RUAA are laudable, but RUAA drafters ignored an ancient maxim of fairness— the Magna Carta's injunction that justice delayed is justice denied. They never imagined that so many arbitrations at the state level would leave the underlying arbitration agreements, which secure a promise for a final and binding award, in tatters. The apparent winner in arbitration is therefore deprived of justice.
These recent developments trace to 1925, when Congress transferred oversight of arbitration from courts to legislatures. Today, this means that arbitration is more exposed to lobbying efforts by special interests who want to tailor ADR processes— under the aegis of the FAA— to suit their preferences. My data show that the U.S. has two different justice systems for enforcing arbitration awards. The federal domain is minimalist, rooted in centuries of common law experience, and also devoid of political maneuvering. Many states, however, naively promise more fairness in arbitration while subjecting this private process to special deals that are worked out in obscure legislative committees.
State expansion of reviewing standards poses three significant problems: (1) Foremost, this trend is fragmenting the national policy that favors arbitration by allowing a plurality of judicial review standards.
When Congress and the Supreme Court beat the drum to proclaim that the FAA provides a national arbitration policy, they are wrong. (2) The results imply that RUAA will stimulate forum shopping. Award winners should run to federal court to confirm their awards, while challengers should race to state court to improve their odds of vacatur. In time, the judicial inconsistency that I document will undermine cost, efficiency, and time saving advantages of arbitration over court adjudications. (3) A moral hazard is created when losers at arbitration are tempted to renege on their contractual promise to submit to binding arbitration in order to pursue "do-over" adjudication. As more courts vacate awards, more disputes remain unresolved; and as the vacatur rate increases in state courts, this will lead to more award challenges. Congested court dockets will become a bigger problem if parties cannot rely on contractual promises for final and binding arbitration. Losing confidence in award finality, more parties will bypass arbitration and resort to filing more lawsuits. The Congress that passed the FAA sought a quick, efficient, and low-cost alternative to court adjudication. These lawmakers would be alarmed by empirical trends that depict the unbinding of arbitration.
Keywords
ARBITRATION,
JUDGES,
JUDICIAL REVIEW,
DISPUTE RESOLUTION,
COMMON LAW
Publication Date
August, 2007
Citation Information
Michael H LeRoy. "MISGUIDED FAIRNESS? REGULATING ARBITRATION BY STATUTE: EMPIRICAL EVIDENCE OF DECLINING AWARD FINALITY"
ExpressO
(2007)
Available at: http://works.bepress.com/michael_leroy/4/