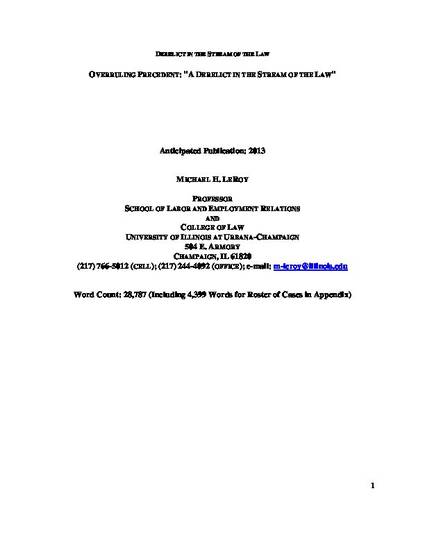 Unpublished Paper
Overruling Precedent: "A Derelict in the Stream of the Law"
ExpressO (2013)
Abstract
Will the Supreme Court overrule Hoffman Plastic Compounds v. N.L.R.B., 535 U.S. 137 (2002), its precedent that treats unlawful alien workers as criminals and denies them backpay for a violation of a labor law? More generally, what are the statistical indicators of a precedent that the Supreme Court overrules— and how well does Hoffman Plastic fit that profile? To answer these research questions, I analyze two unique databases— 128 federal and state rulings from 2002-2012 that involved Hoffman Plastic's remedy issue, and a sample of 154 Supreme Court pairings of an overruled precedent, and the decision that explicitly rejected it.
My study draws on a metaphor that the Supreme Court uses when they view a precedent as "a derelict in the stream of the law"— a reference to a stranded shipwreck. I adapt a concept from the science of rivers that compares sudden changes in a river's course to a process for changing the stream of the Court's precedents. The theory posits that closely decided cases are the most likely to be "derelicts." Hoffman Plastic easily meets this threshold with its 5-4 ruling. While a close vote hardly means that a precedent will be overruled, the Supreme Court database shows that a case decided by one vote is more likely than others to be overruled.
A precedent can be overruled when adverse lower court rulings deposit downstream from the lead case. There is empirical evidence of this deposition process for Hoffman Plastic. Between 2002 and 2012, Keycite classified 64 cases as negative authority for this precedent. Hoffman Plastic compares, therefore, to New York v. Belton, 453 U.S. 454 (1981), a case that the Supreme Court implicitly overruled, and Booth v. Maryland, 482 U.S. 496 (1987), expressly overruled by the Court. Five federal circuit courts are part of the accumulation of negative precedent downstream from Hoffman Plastic
Statistical evidence from the Hoffman Plastic database bolsters these Keycite comparisons. Among federal district courts, 68.9% of the cases said that their facts or legal circumstances were distinguishable from Hoffman Plastic, and only 13.3% of federal opinions and 25% of state opinions cited this precedent as positive authority. The possibility that Hoffman Plastic will be overruled is further suggested by the time analysis of Supreme Court precedents. Compared to these cases, Hoffman Plastic is still early in the timeline. An overruled precedent lasts, on average, 19.5 years; and the regression equation in this study predicts that 13.1 years pass before the Court overrules "derelicts" that were decided by one vote. Hoffman Plastic was decided only 11 years ago. A Senate bill to reform immigration law, which legitimizes employment of current unlawful aliens, may further erode judicial support for Hoffman Plastic.
These findings do not mean that the overruling of Hoffman Plastic is imminent or inevitable. This study suggests that a deposition of downstream cases correlates with overruling—but it does not prove that adverse lower court rulings cause the Court to overrule itself. Justices also manage bad precedents by marginalizing or ignoring them. This study shows, however, that when the Court overrules a precedent, this tends to happen (1) within 20 years of the ruling, and (2) in cases that are decided by a one vote margin. Hoffman Plastic has these two "overruling" traits. Hopefully, a richer model will analyze more variables associated with the overruling of precedents. In time, it may be possible to predict the likelihood that a precedent will be overruled, much like scientific models estimate the probability of natural cataclysms.
Keywords
Precedent,
Courts,
Immigration Law,
Labor Law,
Jurisprudence,
Judges
Publication Date
July 31, 2013
Citation Information
Michael H. LeRoy. "Overruling Precedent: "A Derelict in the Stream of the Law""
ExpressO
(2013)
Available at: http://works.bepress.com/michael_leroy/12/