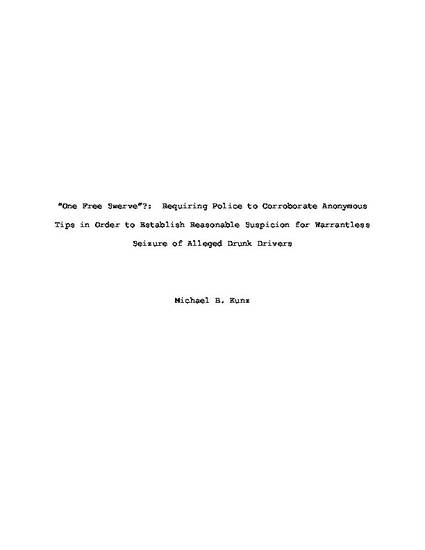 Unpublished Paper
"One Free Swerve"?: Requiring Police to Corroborate Anonymous Tips in Order to Establish Reasonable Suspicion for Warrantless Seizure of Alleged Drunk Drivers
ExpressO (2010)
Abstract
While the Supreme Court holds that warrantless searches and seizures are presumptively unreasonable, it has carved out exceptions to the warrant requirement that provide law enforcement officials flexibility with which to conduct their day-to-day investigations. However, in Florida v. J.L. the Court recognized a limit to one such exception by holding that reasonable suspicion cannot be based exclusively on a bare-boned anonymous tip. Nevertheless, the Court complicated this rule by hypothesizing that police might be able to act on a lesser showing of reliability when an anonymous tip alleges a sufficiently great danger. Relying on this abstract idea, a number of courts have held that anonymous reports of potentially intoxicated motorists present a sufficiently extreme danger to justify bypassing the general edict announced in Florida v. J.L.
This Comment argues that in order to establish the reasonable suspicion necessary to initiate an investigatory traffic stop, law enforcement officers should be required to corroborate beyond readily observable innocent details of an anonymous tip alleging erratic driving. Considerable Supreme Court precedent related to warrantless seizures implies that police cannot rely solely on an anonymous tip alleging drunk driving if the tip provides no means to establish the informant's reliability. Moreover, the threat posed by a potentially intoxicated motorist is inconsistent with the extraordinary danger exception suggested in Florida v. J.L. When law enforcement cannot establish a caller's credibility, they should be required to take the relatively minor step of corroborating the allegation to ensure there is a reasonable basis for a seizure before initiating an investigatory traffic stop.
Part I of the Comment examines the historical development of Fourth Amendment case law as it relates to the use of anonymous tips by law enforcement. Part II addresses how these precedents apply in the context of investigatory traffic stops of allegedly intoxicated motorists, and examines the reasoning of jurisdictions on either side of the issue. Part III presents an analysis of the issue and argues that police must corroborate beyond just innocent information provided by an anonymous tip of dangerous driving. Finally, Part IV concludes by recommending that the appropriate focus should be on reducing the anonymity of anonymous reports of erratic driving, rather than constructing exceptions for such tips under the Fourth Amendment.
Keywords
Fourth Amendment,
search and seizure,
traffic stop,
anonymous tips,
warrantless,
drunk driving,
intoxicated
Publication Date
September 30, 2010
Citation Information
Michael B Kunz. ""One Free Swerve"?: Requiring Police to Corroborate Anonymous Tips in Order to Establish Reasonable Suspicion for Warrantless Seizure of Alleged Drunk Drivers"
ExpressO
(2010)
Available at: http://works.bepress.com/michael_kunz/1/