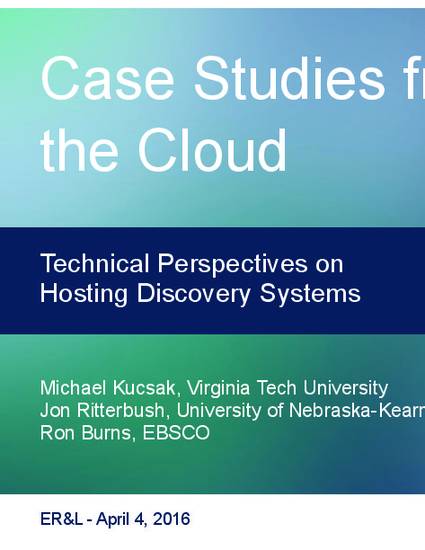 Presentation
Case Studies from the Cloud: Technical Perspectives on Hosting Discovery Systems
Electronic Resources & Libraries (2016)
Abstract
We are squarely in the age of the cloud. As individuals and institutional users we rely on the cloud to store our documents and even our software applications. With no local software to install, and updates that are immediately available, the cloud – and multi-tenancy – promises a no-headache experience for users.
For libraries the cloud brings an array of benefits – from ease of maintenance to lower total cost of ownership. Yet, as applications are deployed in the cloud, questions arise: can the solution be tailored to meet specific user needs? How are applications maintained, and enhancements made available? How does the vendor address data security and back-ups?  And how does the cloud-based solution interface with other, third-party applications?
In this session, University of North Florida and University of Nebraska-Kearney will discuss cloud-based discovery, and look at its architectural fundamentals. Panelists will discuss multi-tenancy, and – at the same time - showcase examples of how discovery can be customized for each library. In addition, a closer look will be given to infrastructure requirements on the vendor-side to ensure continuous, and secure, service for library users.
Keywords
discovery,
ebsco,
library,
academic,
cloud,
hosting
Publication Date
Spring April 4, 2016
Citation Information
Michael W Kucsak, Jon R Ritterbush and Ron Burns. "Case Studies from the Cloud: Technical Perspectives on Hosting Discovery Systems"
Electronic Resources & Libraries
(2016)
Available at: http://works.bepress.com/michael_kucsak/13/