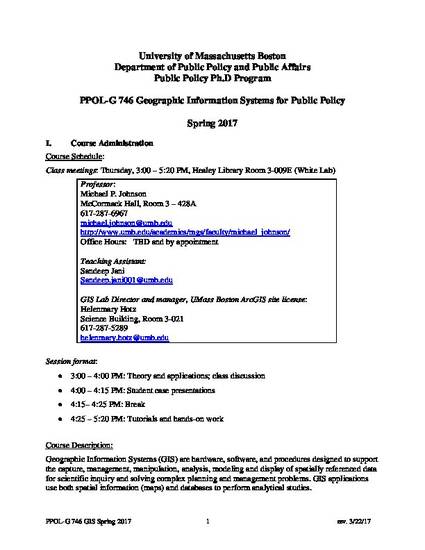 Course Syllabus
PPOL-G 746 Geographic Information Systems for Public Policy
PPOL-G 746, Spring 2017 (2017)
Description
The purpose of this course is to learn principles and applications of GIS to support doctoral-level research and master's-level research and analysis in public policy and related disciplines, such as public management, gerontology and urban and regional planning. This course has a particular focus on spatial data collection and analysis for urbanized regions within the greater Boston area. We will address basic geographic and mapping concepts. These include: world coordinate system and projections, map topology, tiled and layered maps, standard computer map file formats, data processing and data analysis, including Web-enabled GIS. We will also study advanced methods suitable for doctoral research such as exploratory spatial analytic methods, model-building and multi-method & qualitative GIS. Hands-on tutorials using GIS software, and case studies and current scholarly research are integrated into nearly every class meeting. Application areas to be discussed include: economic development, housing, transportation, land use, crime and policing, census and demographic studies and public health.
Keywords
Geographic information systems,
spatial analysis,
spatial statistics
Publication Date
June 15, 2017
Citation Information
Michael P Johnson. "PPOL-G 746 Geographic Information Systems for Public Policy"
PPOL-G 746, Spring 2017
(2017)
Available at: http://works.bepress.com/michael_johnson/87/