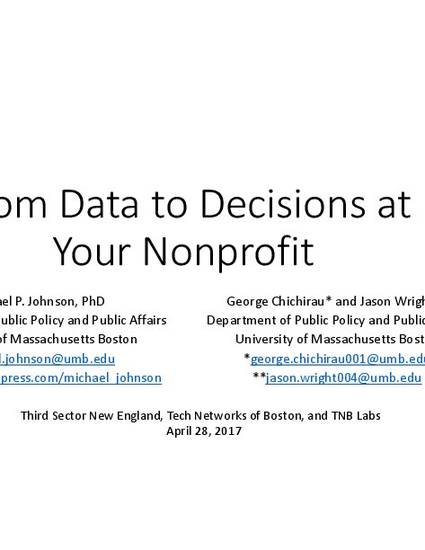 Presentation
From Data to Decisions at Your Nonprofit
Tech Networks of Boston (2017)
Abstract
In recent years, discussions about 'data analytics,' 'big data' and 'performance management' have tended to focus on organizations' needs to collect, store, analyze, and make productive use of mostly-quantitative data to ensure that their activities are best-aligned with their missions. Without minimizing the importance of training, software and hardware selection, and organization design, there is also a need for organizations to make the best decisions they can using all data that are available – including qualitative data that may be hard to capture in information systems.
The goal of this Super Roundtable is to enable organizations to improve their decision-making ability. The focus will be on decision-making that is inspired by real world problems, readily available data, evidence of program characteristics and impact, and inspired by standard, commonly-taught decision models. Decision problems can address long-term, strategic concerns, as well as shorter-term tactical (occasional) and operational (frequent) concerns.      
Keywords
data analytics,
decision modeling,
nonprofit organizations
Publication Date
April 28, 2017
Citation Information
Michael P Johnson, George Chichirau and Jason Wright. "From Data to Decisions at Your Nonprofit"
Tech Networks of Boston
(2017)
Available at: http://works.bepress.com/michael_johnson/84/