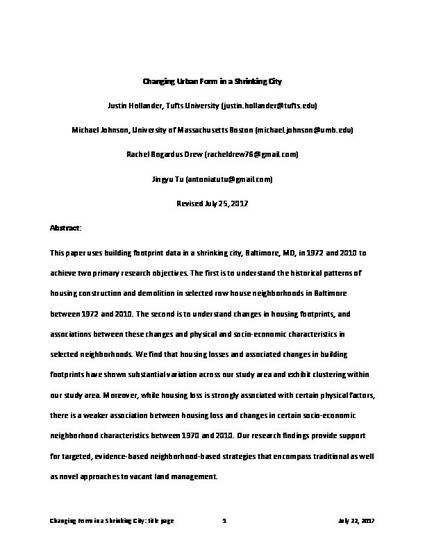 Unpublished Paper
Changing Urban Form in a Shrinking City
Environment and Planning B (2017)
Abstract
This paper uses building footprint data in a shrinking city, Baltimore, MD, in 1972 and 2010 to achieve two primary research objectives. The first is to understand the historical patterns of housing construction and demolition in selected row house neighborhoods in Baltimore between 1972 and 2010. The second is to understand changes in housing footprints, and associations between these changes and physical and socio-economic characteristics in selected neighborhoods. We find that housing losses and associated changes in building footprints have shown substantial variation across our study area and exhibit clustering within our study area. Moreover, while housing loss is strongly associated with certain physical factors, there is a weaker association between housing loss and changes in certain socio-economic neighborhood characteristics between 1970 and 2010. Our research findings provide support for targeted, evidence-based neighborhood-based strategies that encompass traditional as well as novel approaches to vacant land management.  
Keywords
Housing demolition,
urban shrinkage,
spatial analysis,
urban planning
Publication Date
July 26, 2017
Citation Information
Justin Hollander, Michael P Johnson and Rachel B. Drew. "Changing Urban Form in a Shrinking City"
Environment and Planning B
(2017)
Available at: http://works.bepress.com/michael_johnson/71/