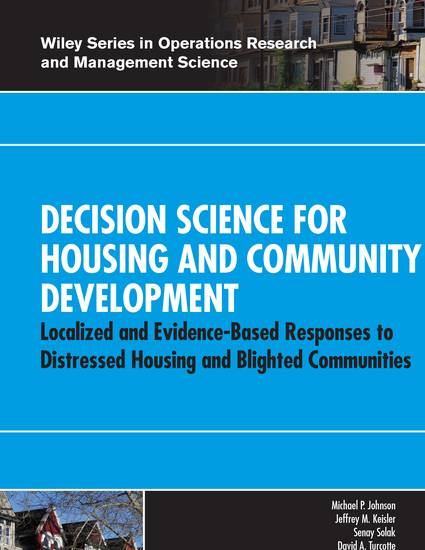 Book
Decision Science for Housing and Community Development: Localized and Evidence‐Based Responses to Distressed Housing and Blighted Communities
(2015)
Abstract
This book presents decision models and applications to an important contemporary issue in urban housing and community development: local responses to the foreclosure crisis. The roots of this book are a National Science Foundation-funded project as well as an antecedent pilot project that served as a response to a phenomenon with multiple causes and large-scale and wide-ranging impacts on people, communities and markets worldwide, including in urbanized areas of the United States. The book demonstrates that a diverse set of decision models, developed to respond to the recent foreclosure crisis in the US, can contribute to emerging scholarship in public-sector applications of operations research and can provide tangible and practical support to community development practitioners in highly-affected neighborhoods. The purpose of this book is to present OR/MS models and applications, contextualized via urban and regional planning and public policy, that can guide scholars and practitioners in designing evidence-based interventions into local markets that may provide tangible guidance for neighborhood change and social impact. There are two primary intended audiences for this book. The first is academics and students, with various levels of expertise or training in decision science-related fields. We expect these readers to use the book primarily for for research and teaching. The second audience is practitioners, with a variety of disciplinary backgrounds. Our book is intended to enable these readers to identify useful applications of decision science and information technology for community stabilization and revitalization. This book is most likely to be used in the classroom as a complement to traditional methods-oriented textbooks as well as application-oriented journal articles and reports. It may also be used as a primary textbook in topics-focused courses such as introduction to public-sector operations research or analytic methods for planning and community development, or in project & studio courses focused on specific issues in urban affairs.
Keywords
Community-based operations research,
housing and community development
Publication Date
October, 2015
Editor
Susanne Steitz-Filler
Publisher
John Wiley & Sons, Inc.
Series
Wiley Series on Operations Research and Management Science
Citation Information
Michael P Johnson, Jeffrey Keisler, Senay Solak, David Turcotte, et al.. Decision Science for Housing and Community Development: Localized and Evidence‐Based Responses to Distressed Housing and Blighted Communities. 1New York City(2015)
Available at: http://works.bepress.com/michael_johnson/58/