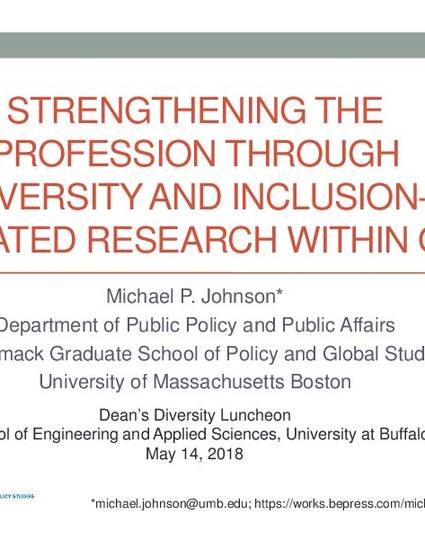 Presentation
Strengthening the Profession through Diversity and Inclusion-related Research Within OR
University at Buffalo, Dean's Diversity Luncheon, School of Engineering and Applied Sciences (2018)
Abstract
Diversity, equity and inclusion are well-studied and widely-practiced areas in organization design, human resources and many areas of social sciences. However, the science, technology, engineering and math (STEM) disciplines are somewhat newer to the notion of diversity, equity and inclusion as a way to improve professions and contribute to substantive research within component disciplines. This is especially true for operations research and the decision sciences. In this talk, given to an interdisciplinary audience of engineering professors, administrators and students, I provide an introduction to operations research, to diversity, equity and inclusion within STEM and OR specifically, ways that DEI might contribute to progress in STEM practice, professions and organizations, and provide ideas on ways to create a research agenda in OR that is rooted in theory and practice.
Keywords
diversity,
equity,
inclusion,
operations research,
decision sciences,
community OR,
community-based OR
Publication Date
October 7, 2018
Citation Information
Michael P Johnson. "Strengthening the Profession through Diversity and Inclusion-related Research Within OR"
University at Buffalo, Dean's Diversity Luncheon, School of Engineering and Applied Sciences
(2018)
Available at: http://works.bepress.com/michael_johnson/106/