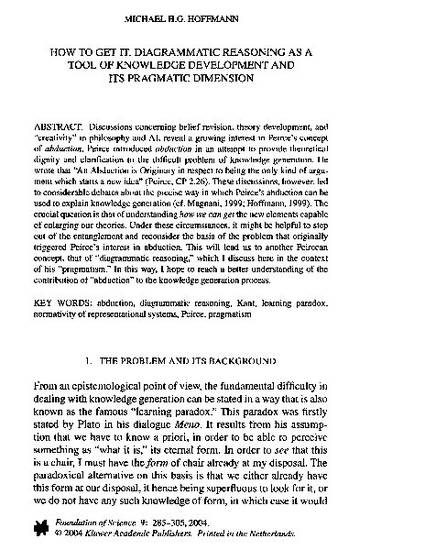 Article
How to Get It. Diagrammatic Reasoning as a Tool of Knowledge Development and its Pragmatic Dimension
Foundations of Science (2004)
Abstract
Discussions concerning belief revision, theory development, and "creativity" in philosophy and AI, reveal a growing interest in Peirce's concept of abduction. Peirce introduced abduction in an attempt to provide theoretical dignity and clarification to the difficult problem of knowledge generation. He wrote that "An Abduction is Originary in respect to being the only kind of argument which starts a new idea." These discussions, however, have led to considerable debates about the precise way in which Peirce's abduction can be used to explain knowledge generation. The crucial question is that of understanding how we can get the new elements capable of enlarging our theories. Under these circumstances, the paper steps out of the entanglement and reconsider the basis of the problem that originally triggered Peirce's interest in abduction. This leads to another Peircean concept, that of "diagrammatic reasoning," which has to be interpreted in the context of his "pragmatism." The project elaborates, in particular, some arguments for the specific kind of realism Peirce has to presuppose in order to explain the possibility of knowledge development by diagrammatic reasoning.
Citation Information
Michael H.G. Hoffmann. "How to Get It. Diagrammatic Reasoning as a Tool of Knowledge Development and its Pragmatic Dimension"
Foundations of Science
Vol. 9 Iss. 3 (2004)
Available at: http://works.bepress.com/michael_hoffmann/5/