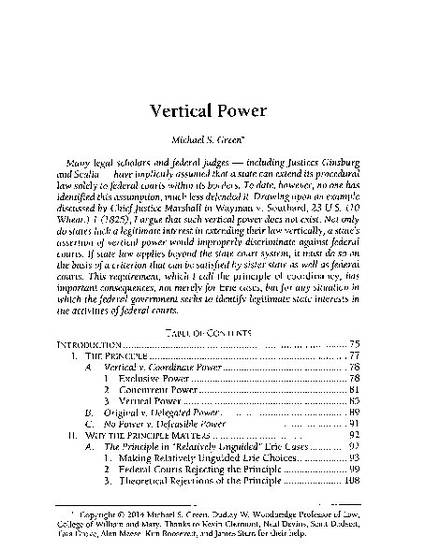 Article
Vertical Power
48 University of California, Davis Law Review 73-140 (2014)
Abstract
Many legal scholars and federal judges - including Justices Ginsburg and Scalia - have implicitly assumed that a state can extend its procedural law solely to federal courts within its borders. To date, however, no one has identified this assumption, much less defended it. Drawing upon an example discussed by Chief Justice Marshall in Wayman v. Southard, 23 U.S. (10 Wheat.) 1 (1825), 1 argue that such vertical power does not exist. Not only do states lack a legitimate interest in extending their law vertically, a state's assertion of vertical power would improperly discriminate against federal courts. If state law applies beyond the state court system, it must do so on the basis of a criterion that can be satisfied by sister state as well as federal courts. This requirement, which I call the principle of coordinancy, has important consequences, not merely for Erie cases, but for any situation in which the federal government seeks to identify legitimate state interests in the activities of federal courts.
Publication Date
11-1-2014
Citation Information
Michael S. Green. "Vertical Power"
48 University of California, Davis Law Review 73-140 (2014)
(2014)
Available at: http://works.bepress.com/michael_green/43/