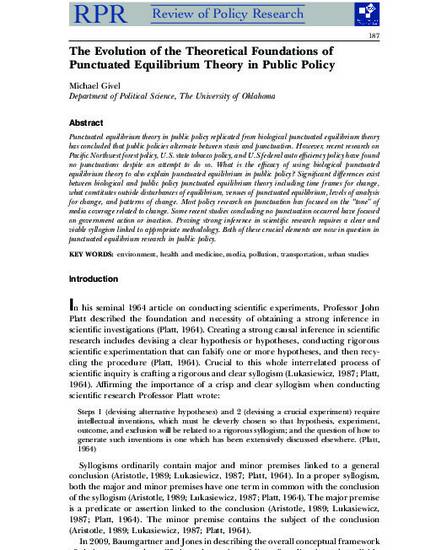 Article
The Evolution of the Theoretical Foundations of Punctuated Equilibrium Theory in Public Policy
Review of Policy Research (2010)
Abstract
Punctuated equilibrium theory in public policy replicated from biological punctuated equilibrium theory has concluded that public policies alternate between stasis and punctuation. However, recent research on Pacific Northwest forest policy, U.S. state tobacco policy, and U.S federal auto efficiency policy have found no punctuations despite an attempt to do so. What is the efficacy of using biological punctuated equilibrium theory to also explain punctuated equilibrium in public policy? Significant differences exist between biological and public policy punctuated equilibrium theory including time frames for change, what constitutes outside disturbances of equilibrium, venues of punctuated equilibrium, levels of analysis for change, and patterns of change. Most policy research on punctuation has focused on the "tone" of media coverage related to change. Some recent studies concluding no punctuation occurred have focused on government action or inaction. Proving strong inference in scientific research requires a clear and viable syllogism linked to appropriate methodology. Both of these crucial elements are now in question in punctuated equilibrium research in public policy.
Keywords
punctuated equilibrium theory,
environment,
health and medicine,
media,
pollution,
transportation,
urban studies
Publication Date
March, 2010
Citation Information
Michael S. Givel. "The Evolution of the Theoretical Foundations of Punctuated Equilibrium Theory in Public Policy"
Review of Policy Research
Vol. 27 Iss. 2 (2010)
Available at: http://works.bepress.com/michael_givel/20/