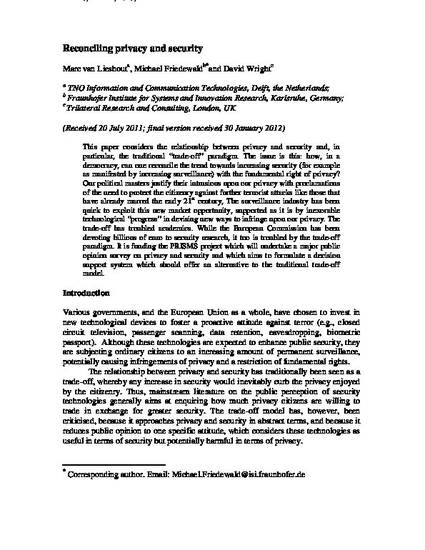 Article
Reconciling privacy and security
Innovation – The European Journal of Social Science Research (2013)
Abstract
This paper considers the relationship between privacy and security and, in particular, the traditional ''trade-off'' paradigm. The issue is this: how, in a democracy, can one reconcile the trend towards increasing security (for example, as manifested by increasing surveillance) with the fundamental right of privacy? Our political masters justify their intrusions upon our privacy with proclamations of the need to protect the citizenry against further terrorist attacks like those that have already marred the early twenty-first century. The surveillance industry has been quick to exploit this new market opportunity, supported as it is by inexorable technological ''progress'' in devising new ways to infringe upon our privacy. The trade-off paradigm has troubled academics. While the European Commission has been devoting billions of euro to security research, it too is troubled by the trade-off paradigm. It is funding the PRISMS project, which will undertake a major public opinion survey on privacy and security and which aims to formulate a decision support system that should offer an alternative to the traditional trade-off model.
Keywords
privacy perceptions; security concern; public opinion; data protection; PRISMS
Publication Date
April, 2013
Citation Information
Marc van Lieshout, Michael Friedewald, David Wright and Serge Gutwirth. "Reconciling privacy and security"
Innovation – The European Journal of Social Science Research
Vol. 26 Iss. 1-2 (2013)
Available at: http://works.bepress.com/michael_friedewald/63/