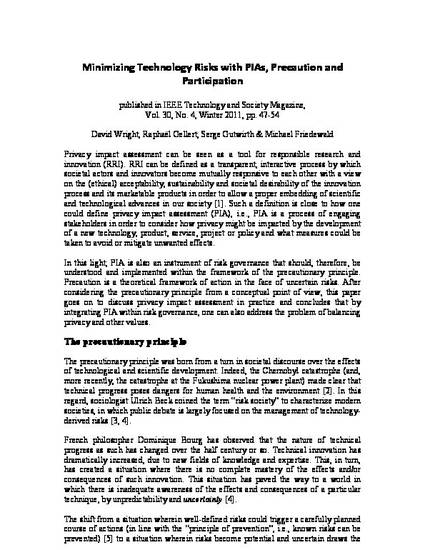 Article
Minimizing Technology Risks with PIAs, Precaution and Participation
IEEE Technology and Society Magazine, (2011)
Abstract
Privacy impact assessment can be seen as a tool for responsible research and innovation (RRI). RRI can be defined as a transparent, interactive process by which societal actors and innovators become mutually responsive to each other with a view on the (ethical) acceptability, sustainability and societal desirability of the innovation process and its marketable products in order to allow a proper embedding of scientific and technological advances in our society [1]. Such a definition is close to how one could define privacy impact assessment (PIA), i.e., PIA is a process of engaging stakeholders in order to consider how privacy might be impacted by the development of a new technology, product, service, project or policy and what measures could be taken to avoid or mitigate unwanted effects.
In this light, PIA is also an instrument of risk governance that should, therefore, be understood and implemented within the framework of the precautionary principle. Precaution is a theoretical framework of action in the face of uncertain risks. After considering the precautionary principle from a conceptual point of view, this paper goes on to discuss privacy impact assessment in practice and concludes that by integrating PIA within risk governance, one can also address the problem of balancing privacy and other values.
Keywords
Privacy Impact Assessment,
Responsible Research and Innovation,
Data Protection
Publication Date
Winter 2011
Citation Information
Raphael Gellert, David Wright, Serge Gutwirth and Michael Friedewald. "Minimizing Technology Risks with PIAs, Precaution and Participation"
IEEE Technology and Society Magazine,
Vol. 30 Iss. 4 (2011)
Available at: http://works.bepress.com/michael_friedewald/56/