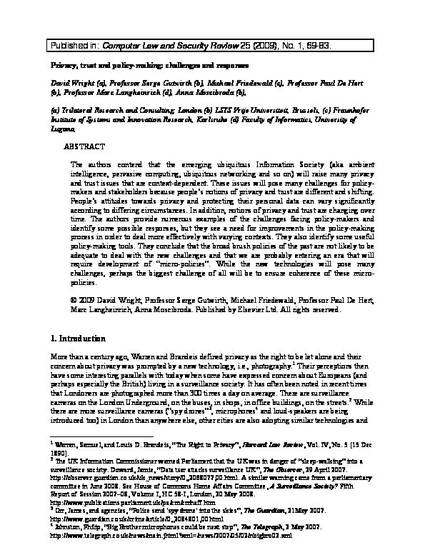 Article
Privacy, trust and policy-making: Challenges and responses
Computer Law and Security Review (2009)
Abstract
The authors contend that the emerging ubiquitous Information Society (aka ambient intelligence, pervasive computing, ubiquitous networking and so on) will raise many privacy and trust issues that are context-dependent. These issues will pose many challenges for policy- makers and stakeholders because people's notions of privacy and trust are different and shifting. People's attitudes towards privacy and protecting their personal data can vary significantly according to differing circumstances. In addition, notions of privacy and trust are changing over time. The authors provide numerous examples of the challenges facing policy-makers and identify some possible responses, but they see a need for improvements in the policy-making process in order to deal more effectively with varying contexts. They also identify some useful policy-making tools. They conclude that the broad brush policies of the past are not likely to be adequate to deal with the new challenges and that we are probably entering an era that will require development of "micro-policies". While the new technologies will pose many challenges, perhaps the biggest challenge of all will be to ensure coherence of these micro- policies.
Citation Information
David Wright, Serge Gutwirth, Michael Friedewald, Paul de Hert, et al.. "Privacy, trust and policy-making: Challenges and responses"
Computer Law and Security Review
Vol. 25 Iss. 1 (2009)
Available at: http://works.bepress.com/michael_friedewald/36/