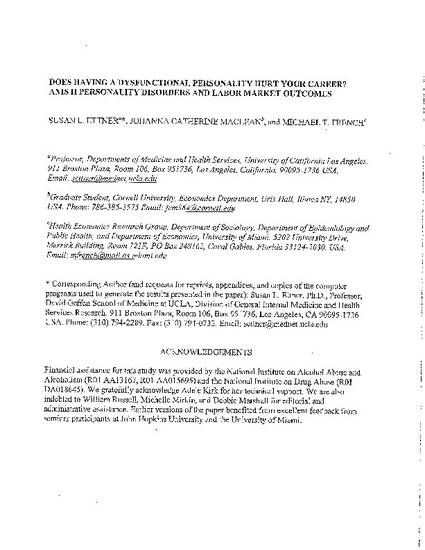 Article
Does having a dysfunctional personality hurt your career? Axis II personality disorders and labor market outcomes
Industrial Relations (2011)
Abstract
Despite recent interest in how psychiatric disorders affect work outcomes, little is known about the role of personality disorders (PDs), which are poorly understood yet prevalent (15%) and impairing. We used nationally representative data for 12,457 men and 16,061 women to examine associations of PDs with any employment, full-time employment, chronic unemployment, being fired or laid off, and having trouble with a boss or co-worker. Antisocial, paranoid, and obsessivecompulsive PDs demonstrated the broadest patterns of associations with adverse outcomes. Findings suggest that PDs may have implications for the productivity of co-workers as well as that of the disordered employees themselves.
Citation Information
Michael T. French, Johanna Catherine Maclean and Susan L. Ettner. "Does having a dysfunctional personality hurt your career? Axis II personality disorders and labor market outcomes"
Industrial Relations
Vol. 50 Iss. 1 (2011)
Available at: http://works.bepress.com/michael_french/51/