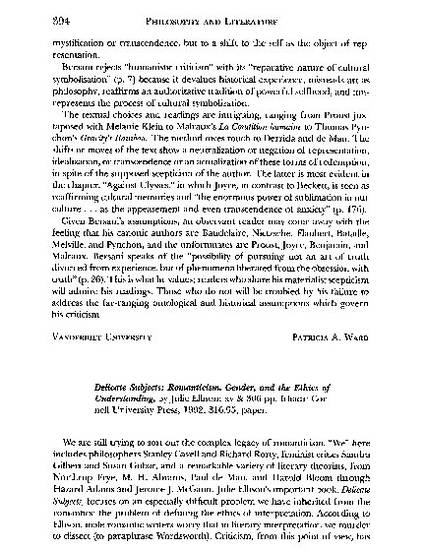 Other
Delicate Subjects: Romanticism, Gender, and the Ethics of Understanding [Review]
Philosophy and Literature
Document Type
Book Review
Publication Date
10-1-1993
Abstract
We are still trying to sort out the complex legacy of romanticism. "We" here includes philosophers Stanley Cavell and Richard Rorty, feminist critics Sandra Gilbert and Susan Gubar, and a remarkable variety of literary theorists, from Northrop Frye, M. H. Abrams, Paul de Man, and Harold Bloom through Hazard Adams and Jerome J. McGann. Julie Ellison's important book, Delicate Subjects, focuses on an especially difficult problem we have inherited from the romantics: the problem of defining the ethics of interpretation. According to Ellison, male romantic writers worry that in literary interpretation, we murder to dissect (to paraphrase Wordsworth). Criticism, from this point of view, has troubling affinities with such masculinist values as aggression, violence, possession, penetration, and mastery. Unwilling to see themselves as ruthless Ahabs ripping out the hidden meaning of innocent texts, the romantics privilege moments of nonexploitative understanding, moments associated with values culturally encoded as feminine: receptivity, love, friendship, conversation, and empathy. But even as the romantics appreciate these values, they still see the need to justify criticism as manly, hard intellectual work, distinct from the irresponsible gossip and sensationalistic novels that they often align with women. With intelligence and care, Ellison explores how the romantics struggle to distance themselves from masculinist aggression without succumbing to what they see as the opposite effeminate extreme.
Document Object Identifier (DOI)
10.1353/phl.1993.0045
Citation Information
Fischer, M. (1993). [Review of the book
Delicate Subjects: Romanticism, Gender, and the Ethics of Understanding
, by J. Ellison].
Philosophy and Literature
, 17, 394-396. doi: 10.1353/phl.1993.0045