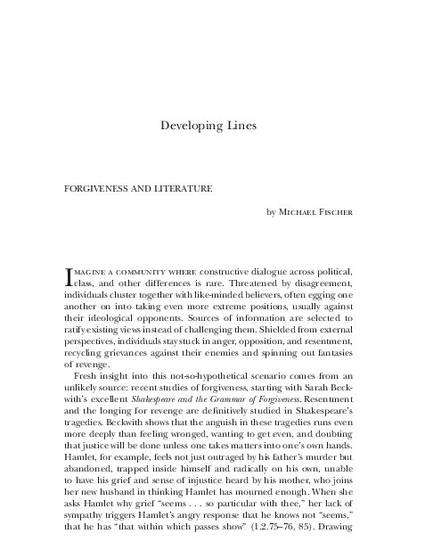 Article
Forgiveness and Literature
Philosophy and Literature
Publication Date
10-1-2012
Abstract
Imagine a community where constructive dialogue across political, class, and other differences is rare. Threatened by disagreement, individuals cluster together with like-minded believers, often egging one another on into taking even more extreme positions, usually against their ideological opponents. Sources of information are selected to ratify existing views instead of challenging them. Shielded from external perspectives, individuals stay stuck in anger, opposition, and resentment, recycling grievances against their enemies and spinning out fantasies of revenge.
Document Object Identifier (DOI)
10.1353/phl.2012.0039
Citation Information
Fischer, M. (2012). Forgiveness and Literature.
Philosophy and Literature
, 36, 504-512. doi: 10.1353/phl.2012.0039