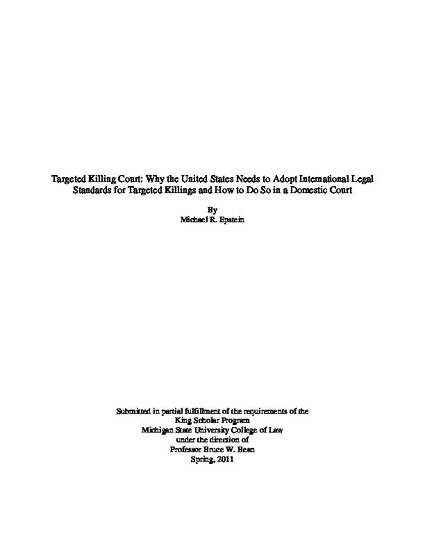 Unpublished Paper
TARGETED KILLING COURT: WHY THE UNITED STATES NEEDS TO ADOPT INTERNATIONAL LEGAL STANDARDS FOR TARGETED KILLINGS AND HOW TO DO SO IN A DOMESTIC COURT
ExpressO (2011)
Abstract
In light of the fact that the Obama Administration appears committed to continuing and expanding the use of drones and targeted killing as a primary counter-terrorism method, addressing both domestic and international concerns about the legality of our drone use is no simple task. Much has been written on the topic, and various definitions and interpretations of international law have been proposed; in order to address all of these concerns simultaneously while balancing the obvious reality that drone strikes will not stop anytime soon, I propose that a domestic judicial mechanism is required. Part I of this paper demonstrates the continuing development and use of drone technology, and the international criticism and debate it has sparked. Part II of this paper examines the history of targeted killings and drone strikes. Part III of this paper examines the past and current U.S. policy regarding targeted killings and drone strikes, including justifications under domestic and international law. Part IV analyzes international legal standards, and attempts to grasp "what law applies" in the gray area of counter-terrorism targeted killings. Part V compares Israel's history and policy of targeted killings and drone use, and analyzes the first prominent judicial opinion regarding the use of targeted killings as a counter-terrorism tool. Part VI proposes a domestic U.S. Court designed to deal with the international and domestic concerns about the questionable legality of targeted killings.
The proposed court is intended to address the basic problem confronting the continued use of drones: how do we protect our citizens and ensure our national security under international law against threats posed by non-state actors who follow no laws or rules, while simultaneously retaining our credibility abroad and at home?
Publication Date
April 13, 2011
Citation Information
Michael Epstein. "TARGETED KILLING COURT: WHY THE UNITED STATES NEEDS TO ADOPT INTERNATIONAL LEGAL STANDARDS FOR TARGETED KILLINGS AND HOW TO DO SO IN A DOMESTIC COURT"
ExpressO
(2011)
Available at: http://works.bepress.com/michael_epstein/3/