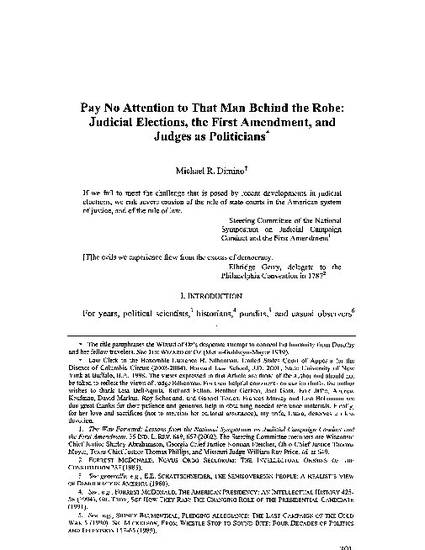 Article
Pay No Attention to That Man Behind the Robe: Judicial Elections, the First Amendment, and Judges as Politicians
Yale Law and Policy Review (2003)
Abstract
The question this Article seeks to answer is whether the First Amendment can maintain a distinction between the two types of races. Specifically, I discuss whether the governmental interests in maintaining an independent,
impartial judiciary and in protecting the appearance of the judiciary as independent and impartial can provide justification for the suppression of speech, where such suppression would be held impermissible in elections for
other offices. I conclude that it cannot. My recommendation, therefore, is to subject restrictions on legislative, executive, and judicial campaign speech to the same exacting scrutiny.
Keywords
constitutional law,
judges,
judicial appointment
Citation Information
Michael R Dimino. "Pay No Attention to That Man Behind the Robe: Judicial Elections, the First Amendment, and Judges as Politicians"
Yale Law and Policy Review
Vol. 21 (2003)
Available at: http://works.bepress.com/michael_dimino/6/