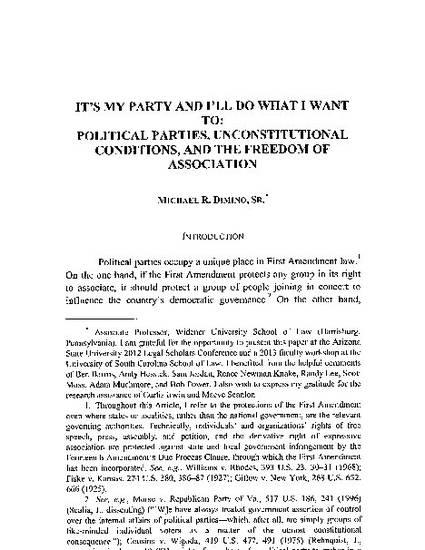 Article
It's My Party and I'll Do What I Want To: Political Parties, Unconstitutional Conditions, and the Freedom of Association
First Amendment Law Review (2013)
Abstract
To this point, cases and commentary have portrayed controversies about regulation of political parties as requiring a choice between the autonomy of parties and the power of the government to regulate elections. Supporters of government regulation have seen such regulation as worth the cost of limiting parties' freedom. Opponents have argued that parties' First Amendment rights entitle them not only to run themselves as they see fit but to receive the assistance of the government in doing so.
This Article has suggested a third way. By permitting government to condition benefits on parties' waiver of First Amendment rights, this new proposal respects parties' rights and treats parties as autonomous organizations, while still permitting government to encourage parties to act in ways that promote society's democratic ideals.
Keywords
First amendment,
constitutional law,
political parties,
freedom of association
Publication Date
Fall 2013
Citation Information
Michael R Dimino. "It's My Party and I'll Do What I Want To: Political Parties, Unconstitutional Conditions, and the Freedom of Association"
First Amendment Law Review
Vol. 12 (2013)
Available at: http://works.bepress.com/michael_dimino/18/