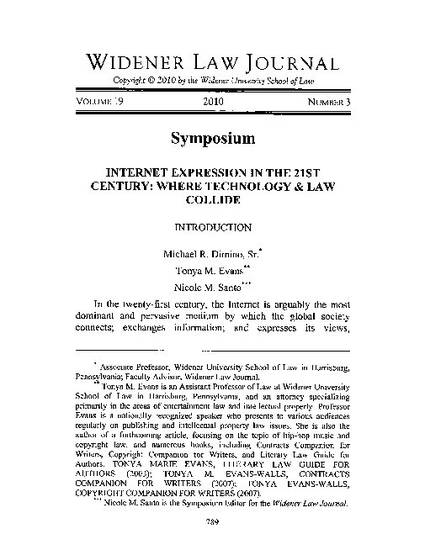 Article
Symposium, Internet Expression in the 21st Century: Where Technology & Law Collide: Introduction
Widener Law Journal (2010)
Abstract
The Widener Law Journal has assembled a dynamic and diverse group of preeminent legal scholars to evaluate and discuss the many engaging, perplexing, and unanswered legal and ethical questions presented by Internet expression. These scholars have focused on two primary topics: (1) issues of constitutional law and criminal procedure that arise with Internet expression, including whether the Internet has increased concerns about invasions of other persons' rights and what regulations are necessary to protect privacy rights; (2) the intersection of Internet expression and property law, including issues of ownership, protectable interests,
and fair use in the realm of intellectual property law for interests created with the mind.
Keywords
internet,
privacy,
intellectual property
Publication Date
January 1, 2010
Citation Information
Michael R. Dimino, Tonya M. Evans-Walls and Nicole M. Santo. "Symposium, Internet Expression in the 21st Century: Where Technology & Law Collide: Introduction"
Widener Law Journal
Vol. 19 Iss. 3 (2010)
Available at: http://works.bepress.com/michael_dimino/13/