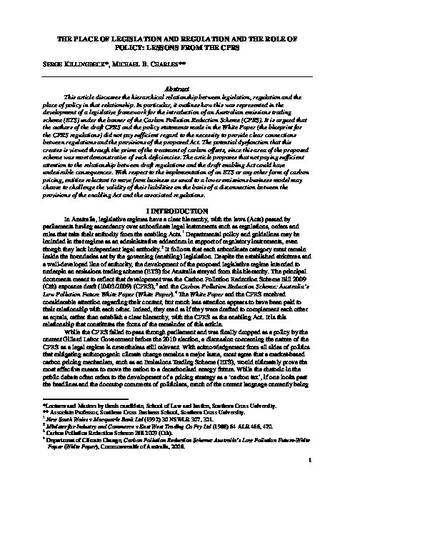 Article
The place of legislation and regulation and the role of policy: lessons from the CPRS
Southern Cross University Law Review 93
Publication Date
1-1-2011
Peer Reviewed
Peer-Reviewed
Abstract
This article discusses the hierarchical relationship between legislation, regulation and the place of policy in that relationship. In particular, it outlines how this was represented in the development of a legislative framework for the introduction of an Australian emissions trading scheme (ETS) under the banner of the Carbon Pollution Reduction Scheme (CPRS). It is argued that the authors of the draft CPRS and the policy statements made in the White Paper (the blueprint for the CPRS regulations) did not pay sufficient regard to the necessity to provide clear connections between regulations and the provisions of the proposed Act. The potential dysfunction that this creates is viewed through the prism of the treatment of carbon offsets, since this area of the proposed scheme was most demonstrative of such deficiencies. The article proposes that not paying sufficient attention to the relationship between draft regulations and the draft enabling Act could have undesirable consequences. With respect to the implementation of an ETS or any other form of carbon pricing, entities reluctant to move from business as usual to a lower emissions business model may choose to challenge the validity of their liabilities on the basis of a disconnection between the provisions of the enabling Act and the associated regulations.
Citation Information
Killingbeck, S & Charles MB 2011, 'The place of legislation and regulation and the role of policy: lessons from the CPRS', Southern Cross University Law Review 93, Southern Cross University, NSW, Australia.