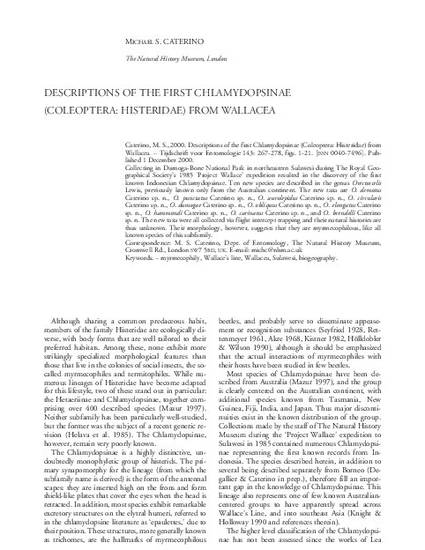 Article
Descriptions of the first Chlamydopsinae (Coleoptera: Histeridae) from Wallacea
Tijdschrift voor Entomologie
Publication Date
12-1-2000
Publisher
Nederlandse Entomologische Vereniging
Abstract
Collecting in Dumoga-Bone National Park in northeastern Sulawesi during The Royal Geographical Society's 1985 'Project Wallace' expedition resulted in the discovery of the first known Indonesian Chlamydopsinae. Ten new species are described in the genus Orectoscelis Lewis, previously known only from the Australian continent. The new taxa are O. demotus Caterino sp. n., O. punctatus Caterino sp. n., O. aurolepidus Caterino sp. n., O. circularis Caterino sp. n., O. dumogae Caterino sp. n., O. obliquus Caterino sp. n., O. elongatus Caterinosp. n., O. hammondi Caterino sp. n., O. carinatus Caterino sp. n., and O. brendelli Caterino sp. n. The new taxa were all collected via flight intercept trapping and their natural histories are thus unknown. Their morphology, however, suggests that they are myrmecophilous, like all known species of this subfamily.
Citation Information
Please use publisher's recommended citation.