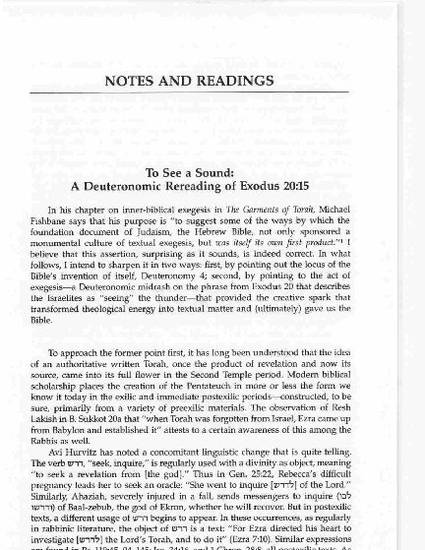 Article
To See a Sound: A Deuteronomic Rereading of Exodus 20:15
Prooftexts (1999)
Abstract
In his chapter on inner-biblical exegesis in The Garments of Torah, Michael Fishbane says that his purpose is "to suggest some of the ways by which the foundation document of Judaism, the Hebrew Bible, not only sponsored a monumental culture of textual exegesis, but was itself its own first product." I believe that this assertion is indeed correct. In this article, I sharpen it in two ways: first, by pointing out the locus of the Bible's invention of itself, Deuteronomy 4; second, by pointing to the act of exegesis—a Deuteronomic midrash on the phrase from Exodus 20 that describes the Israelites as "seeing" the thunder—that provided the creative spark that transformed theological energy into textual matter and (ultimately) gave us the Bible.
Keywords
Exodus,
Deuteronomy,
Exodus 20:15
Citation Information
Michael Carasik. "To See a Sound: A Deuteronomic Rereading of Exodus 20:15"
Prooftexts
Vol. 19 Iss. 3 (1999)
Available at: http://works.bepress.com/michael_carasik/18/