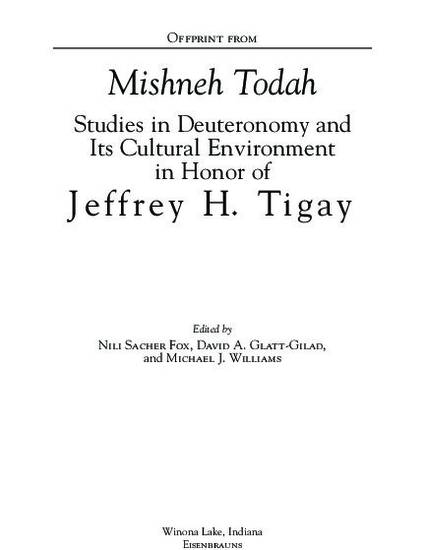 Article
A Deuteronomic Voice in the Joseph Story
Mishneh Todah (2009)
Abstract
In this article, I hope to show that a distinctively Deuteronomic voice can be heard in the Joseph story. This voice makes itself known both in Deuteronomic language and in a particular Deuteronomic attitude, one that has been neglected as a tool for discovering Deuteronomic influence in other books of the Bible—Deuteronomy's psychological orientation. Focusing on these two elements of what the writer of Deuteronomy sounds like, I hope to demonstrate that, despite the origins of the Joseph story primarily in the J, E, and P sources, the writer who composed it was indeed influenced throughout by a Deuteronomic outlook.
Keywords
Deuteronomy,
Joseph story
Citation Information
Michael Carasik. "A Deuteronomic Voice in the Joseph Story"
Mishneh Todah
(2009)
Available at: http://works.bepress.com/michael_carasik/16/