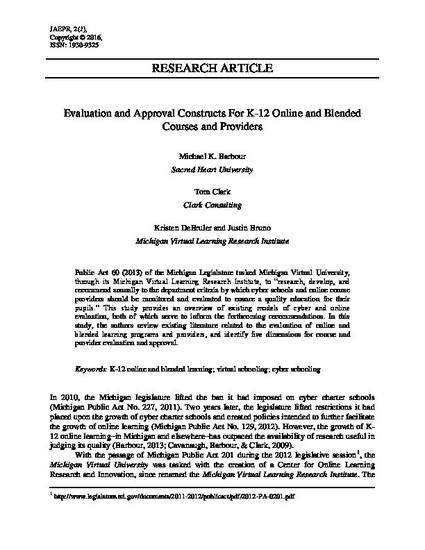 Article
Evaluation and Approval Constructs For K-12 Online and Blended Courses and Providers
Education Faculty Publications
Document Type
Peer-Reviewed Article
Publication Date
7-1-2016
Abstract
Public Act 60 (2013) of the Michigan Legislature tasked Michigan Virtual University, through its Michigan Virtual Learning Research Institute, to "research, develop, and recommend annually to the department criteria by which cyber schools and online course providers should be monitored and evaluated to ensure a quality education for their pupils." This study provides an overview of existing models of cyber and online evaluation, both of which serve to inform the forthcoming recommendations. In this study, the authors review existing literature related to the evaluation of online and blended learning programs and providers, and identify five dimensions for course and provider evaluation and approval.
Creative Commons License
Creative Commons Attribution-Noncommercial-Share Alike 4.0
Citation Information
Barbour, M. K., Clark, T., DeBruler, K., & Bruno, J. (2016). Evaluation and approval constructs for k-12 online and blended courses and providers. JAEPR, Journal of Applied Educational Policy Research , 2(1), 32-45.