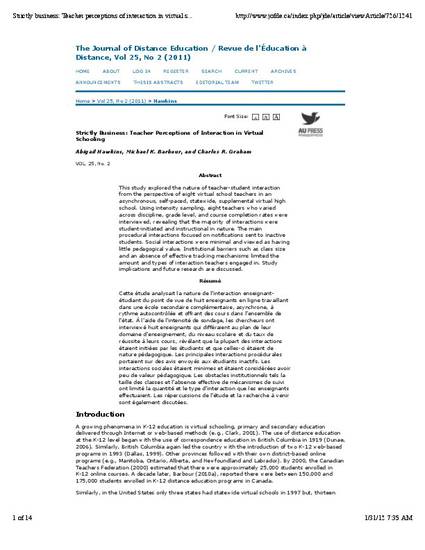 Article
Strictly Business: Teacher Perceptions of Interaction in Virtual Schooling
All Faculty Publications
Keywords
class size,
distance education,
interaction,
virtual classrooms,
teaching methods,
online courses
Abstract
This study explored the nature of teacher-student interaction from the perspective of eight virtual school teachers in an asynchronous, self-paced, statewide, supplemental virtual high school. Using intensity sampling, eight teachers who varied across discipline, grade level, and course completion rates were student-initiated and instructional in nature. The main procedural interactions focused on notifications sent to inactive students. Social interactions were minimal and viewed as having little pedagogical value. Institutional barriers such as class size and an absence of effective tracking mechanisms limited the amount and types of interaction teachers engaged in. Study implications and future research are discussed.
Original Publication Citation
Hawkins, A., Barbour, M.K., & Graham, C.R. (211) Strictly business: Teacher perceptions of interaction in virtual schooling. Journal of Distance Education. 25(2), 211.
Document Type
Peer-Reviewed Article
Publication Date
2011-1-1
Permanent URL
http://hdl.lib.byu.edu/1877/2842
Publisher
Athabasca University Press
College
David O. McKay School of Education
Department
Instructional Psychology and Technology
Copyright Status
© 2011 Canadian Network for Innovation in Education Article published under a Creative Commons Attribution 3.0 License. Article can be found in the Journal of Distance Education at http://www.jofde.ca/index.php/jde/article/view/726.
Copyright Use Information
http://lib.byu.edu/about/copyright/
Citation Information
Charles R. Graham, Abigail Hawkins and Michael K. Barbour. "Strictly Business: Teacher Perceptions of Interaction in Virtual Schooling" (2011)
Available at: http://works.bepress.com/michael_barbour/124/