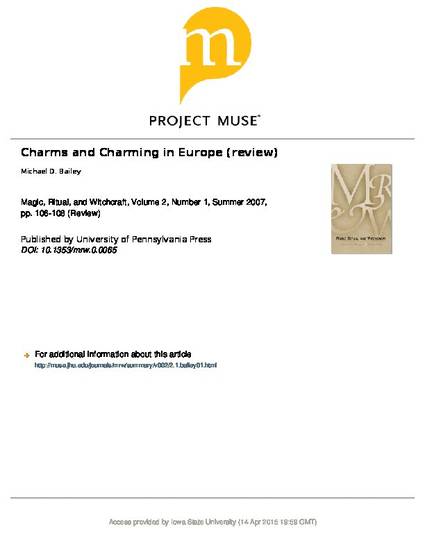 Article
Charms and Charming in Europe (review)
Magic, Ritual, and Witchcraft
Document Type
Book Review
Publication Version
Published Version
Publication Date
7-1-2007
Abstract
In his introduction to this volume, Jonathan Roper defines charms as "the verbal element of vernacular magic practice" (p. 1). This is a concise and workable definition, and it establishes charms and charming as encompassing, almost inarguably, the most broadly diffused and commonly practiced kinds of magic in European history (only the equally enormous category of divination might give charming a run for its money). Yet as Roper and several of the authors of the articles collected here note, charms and charming have not received anywhere near the scholarly attention that have been lavished on narrower categories, such as maleficent witchcraft or learned Renaissance magic. The problem is one of sources. While learned magi left their own records, and theologians and prosecutors wrote furiously about the suspected evils of witchcraft, charms were so ubiquitous in common oral culture that they were rarely written down. When they were recorded, it was typically unsystematically, at least until the nineteenth century, when folklorists became interested in preserving what they regarded as important elements of popular culture, and of course those records, too, present certain problems as historical sources.
Rights
All rights reserved. Except for brief quotations used for purposes of scholarly citation, none of this work may be reproduced in any form by any means without written permission from the publisher. For information address the University of Pennsylvania Press, 3905 Spruce Street, Philadelphia, Pennsylvania 19104-4112.
Copyright Owner
University of Pennsylvania Press
File Format
application/pdf
Citation Information
Michael D. Bailey. "Charms and Charming in Europe (review)"
Magic, Ritual, and Witchcraft
Vol. 2 Iss. 1 (2007) p. 106 - 108
Available at: http://works.bepress.com/michael_bailey/32/