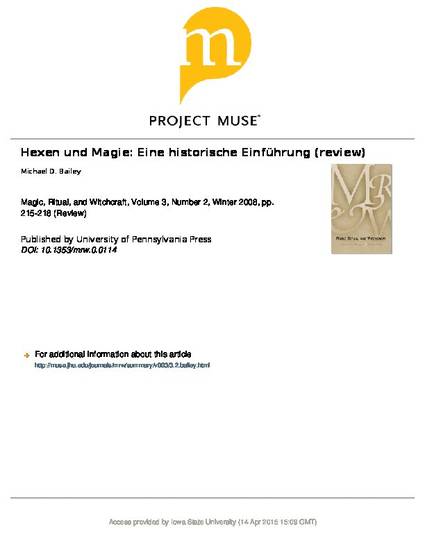 Article
Hexen und Magie: Eine historische Einführung (review)
Magic, Ritual, and Witchcraft
Document Type
Book Review
Publication Version
Published Version
Publication Date
1-1-2008
Abstract
Historical research on witchcraft and magic is a burgeoning field, and one sign of the field's richness and success is the production of ever more sophisticated surveys and overviews. The European witch hunts have long enjoyed excellent historical surveys. The third edition of Brian Levack's The Witch Hunt in Early Modern Europe appeared in 2006 (reviewed in MRW 2 [2007]: 101–3), as did Richard Golden's massive project Encyclopedia of Witchcraft: The Western Tradition (reviewed in MRW 2 [2007]: 87–93). The six volumes of Bengt Ankarloo's and Stuart Clark's Witchcraft and Magic in Europe series appeared between 1999 and 2002 (see MRW 1 [2006]: 109–18). This project moved away from exclusive focus on the early modern witch hunts. While only one volume was devoted to The Period of the Witch Trials, the series as a whole stretched from Biblical and Pagan Societies to The Twentieth Century. Witchcraft remained at the conceptual heart of the project, however, with its underlying focus remained on harmful magic, and on the condemnation and demonization of magic culminating in the witch hunts. In 2007, Jonathan Barry's and Owen Davies's edited volume on Witchcraft Historiography moved away from surveying the history of witchcraft and focused on the contentious [End Page 215] historiography of the topic (see MRW 3 [2008]: 81–85). In my review of that book, I noted that the collection of essays was most welcome because "book-length historiographies are rare." It is yet another testament to the fertility of this field that I am so quickly proved wrong.
Rights
All rights reserved. Except for brief quotations used for purposes of scholarly citation, none of this work may be reproduced in any form by any means without written permission from the publisher. For information address the University of Pennsylvania Press, 3905 Spruce Street, Philadelphia, Pennsylvania 19104-4112.
Copyright Owner
University of Pennsylvania Press
File Format
application/pdf
Citation Information
Michael D. Bailey. "Hexen und Magie: Eine historische Einführung (review)"
Magic, Ritual, and Witchcraft
Vol. 3 Iss. 2 (2008) p. 215 - 218
Available at: http://works.bepress.com/michael_bailey/25/