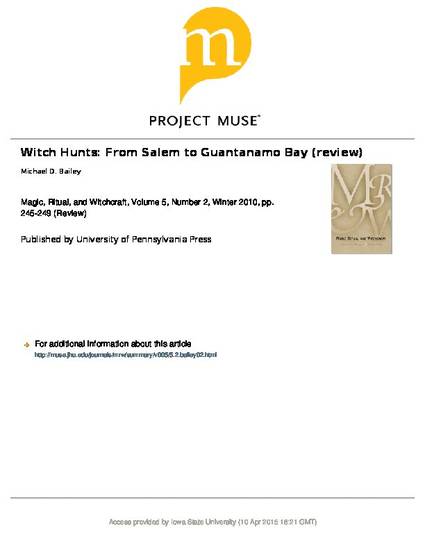 Article
Witch Hunts: From Salem to Guantanamo Bay (review)
Magic, Ritual, and Witchcraft
Document Type
Book Review
Publication Version
Published Version
Publication Date
1-1-2010
Abstract
The purpose of this odd book is to argue that, in the wake of the 9/11 terrorist attacks, and the fear and extraordinary governmental responses they have generated, the modern Western world, and particularly the United States of America, is on the verge of (though not yet embroiled in) a new era of witch hunts. The modern malefactors are, obviously, supposed terrorists rather than supposed witches. Their means of bringing about death and destruction are guns, bombs, and biological devices, not spells and incantations. Yet Rapley argues over the course of twenty breathless chapters that a number of characteristics that pertained to historical witch hunts also pertain in modern times. Most basically, he contends that any situation in which particular people or categories of people come to be understood as representing a dire threat, generating such a level of fear that, in response, authorities are willing to employ extraordinary measures to convict and punish, constitutes a witch hunt. Above all, a presumption of guilt in advance of any solid evidence must be the norm. Evidence must then be acquired (or fabricated) to prove the assumed guilt. "The verdict first, then the trial!" as Rapley repeatedly proclaims (in a text replete with exclamation points).
Rights
All rights reserved. Except for brief quotations used for purposes of scholarly citation, none of this work may be reproduced in any form by any means without written permission from the publisher. For information address the University of Pennsylvania Press, 3905 Spruce Street, Philadelphia, Pennsylvania 19104-4112
Copyright Owner
University of Pennsylvania Press
File Format
application/pdf
Citation Information
Michael D. Bailey. "Witch Hunts: From Salem to Guantanamo Bay (review)"
Magic, Ritual, and Witchcraft
Vol. 5 Iss. 2 (2010) p. 245 - 249
Available at: http://works.bepress.com/michael_bailey/22/