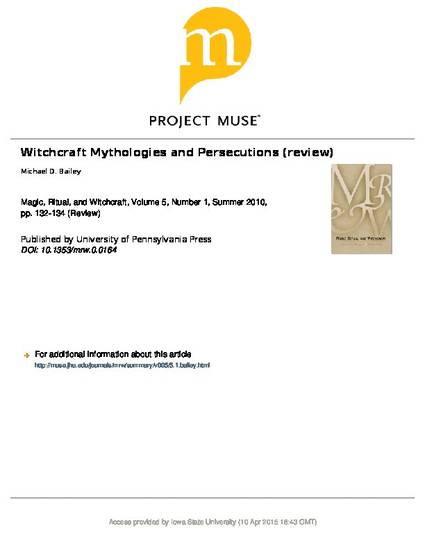 Article
Witchcraft Mythologies and Persecutions (review)
Magic, Ritual, and Witchcraft
Document Type
Book Review
Publication Version
Published Version
Publication Date
7-1-2010
Abstract
This volume is the third in a series deriving from a conference held in Budapest in 1999. While the first volume focused on communication with spirits and spirit possession, and the second examined the place of demons and spirits in learned demonology and common belief (see reviews in Magic, Ritual, and Witchcraft 1.2 [2006]: 257–60; 3.1 [2008]: 99–101), this volume deals directly with the topic of witchcraft, which the editors identify as "the most central theme of our conference" (p. 1). As in the previous volumes, most of the articles collected here focus on the early modern period, with [End Page 132] brief forays back into the Middle Ages (and in one case into deep antiquity), along with some more extended considerations of the continuation of witchcraft beliefs into modern times. The authors approach their topics from the disciplines of history, anthropology, and ethnography. Again as with the previous volumes, some articles are inevitably stronger than others. Some are quite short and tentative in their conclusions, seeming not to have been expanded much, if at all, from the conference papers that were their origin. A number of articles are very worthwhile, however, and as a whole this volume shares the strength with its earlier companions of including a large number of articles that focus on eastern European lands, which are typically relegated to the periphery of European witchcraft studies.
Rights
All rights reserved. Except for brief quotations used for purposes of scholarly citation, none of this work may be reproduced in any form by any means without written permission from the publisher. For information address the University of Pennsylvania Press, 3905 Spruce Street, Philadelphia, Pennsylvania 19104-4112
Copyright Owner
University of Pennsylvania Press
File Format
application/pdf
Citation Information
Michael D. Bailey. "Witchcraft Mythologies and Persecutions (review)"
Magic, Ritual, and Witchcraft
Vol. 5 Iss. 1 (2010) p. 132 - 134
Available at: http://works.bepress.com/michael_bailey/12/