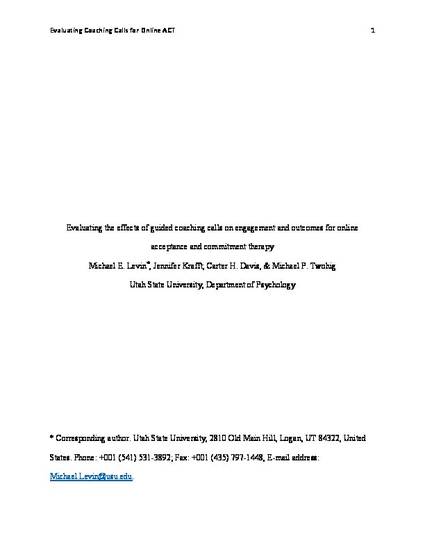 Article
Evaluating the Effects of Guided Coaching Calls on Engagement and Outcomes for Online Acceptance and Commitment Therapy
Cognitive Behaviour Therapy
Publication Date
1-1-2020
Abstract
Previous research indicates mixed results for guided support with interventions. The current secondary analysis evaluated the effects of phone coaching from a dismantling trial of online acceptance and commitment therapy (ACT) in a sample of 136 distressed college students randomized to one of three versions of an ACT website. Participants were randomized to receive email prompts alone (non-coaching condition) or email plus phone coaching (coaching condition). Results indicated no differences between the coaching and non-coaching conditions on program engagement, program satisfaction, mental health outcomes, and almost all psychological flexibility processes. However, participants in the coaching condition reported stronger pre- to posttreatment improvements in psychological inflexibility than the non-coaching condition. This effect was moderated by ACT component condition, with larger pre- to posttreatment effects from coaching on psychological inflexibility in the values/committed action condition and weaker improvements from coaching in the acceptance/defusion condition. Overall, results indicate online self-guided ACT interventions with email prompts are sufficient for addressing college student mental health and that phone coaching provided minimal additional benefit.
Citation Information
Levin, M.E., Krafft, J., Davis, C.H. & Twohig, M.P. (2020). Evaluating the effects of guided coaching calls on engagement and outcomes for online acceptance and commitment therapy. Cognitive Behaviour Therapy.