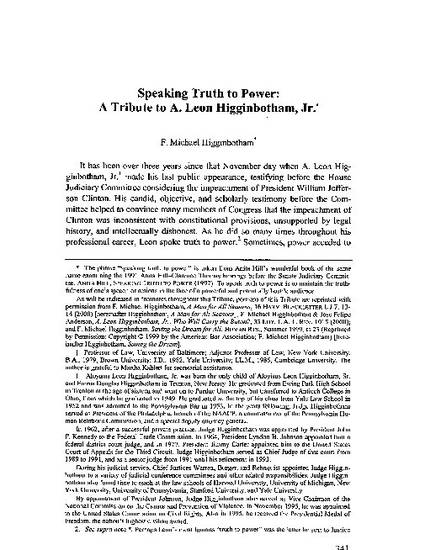 Article
Speaking Truth to Power: A Tribute to A. Leon Higginbotham, Jr
Yale Law & Policy Review
Abstract
It has been over three years since that November day when A. Leon Higginbotham, Jr. made his last public appearance, testifying before the House Judiciary Committee considering the impeachment of President William Jefferson Clinton. His candid, objective, and scholarly testimony before the Committee helped to convince many members of Congress that the impeachment of Clinton was inconsistent with constitutional provisions, unsupported by legal history, and intellectually dishonest. As he did so many times throughout his professional career, Leon spoke truth to power. Sometimes, power acceded to his truth, but more often only history proved him right. Nonetheless, Leon had the courage to speak the truth no matter how strong the opposition or controversial the issue.
Citation Information
F. Michael Higginbotham. "Speaking Truth to Power: A Tribute to A. Leon Higginbotham, Jr"
Available at: http://works.bepress.com/michael-higginbotham/16/