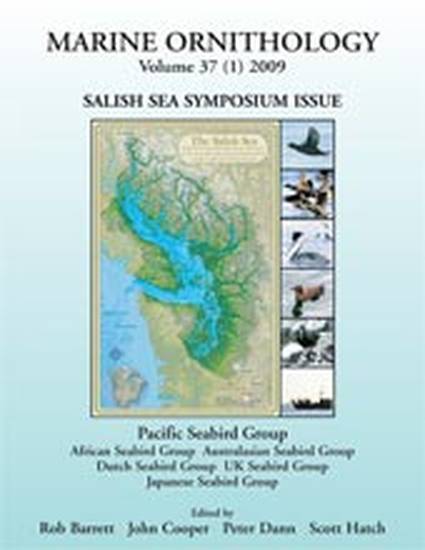 Article
SYMPOSIUM PAPER: Ghosts of the Salish Sea: threats to marine birds in Puget Sound and the Northwest Straits from derelict fishing gear
Marine Ornithology (2009)
Abstract
Marine bird populations in the Salish Sea (Puget Sound and the straits of Juan de Fuca and Georgia) are affected by a variety of anthropogenic factors, many of which threaten seabirds globally. Derelict fishing gear—lost or abandoned commercial and recreational fishing nets, lines, pots and traps that sit or float underwater—can remain in the marine environment for years, trapping and killing marine birds. Since 2002, a project to remove derelict nets from Puget Sound and the US portions of the straits of Georgia and Juan de Fuca has documented the mortality of marine birds and other taxa. More than 1200 derelict fishing nets have been recovered from areas throughout Puget Sound and the Northwest Straits. Of 870 gillnets recovered, 50% were documented to have been derelict for at least one year, but many were much older and still entangling birds. Most derelict gillnets recovered were from the San Juan Islands and northern Puget Sound, from high-relief rocky and boulder habitats, relatively small in size (≤1000 m2 in area), of relatively recent construction and in relatively good condition, stretched open to some extent (i.e. maximum suspension more than zero meters), and recovered from depths above 20 m. Of the marine organisms recovered from these gillnets, 514 were marine birds representing at least 15 species, all of which were recovered dead. Marine birds occurred in 14% of recovered gillnets. Marine birds were more likely to be present in gillnets recovered less than one year after being reported to the project, recovered from the San Juan Islands or Strait of Juan de Fuca, large in size (1000–14 000 m2), relatively new and in good condition, having a maximum suspension of more than one meter, and recovered from minimum depths of 20–40 m. Mortality from derelict fishing gear should be recognized as an additional risk for several marine bird species of conservation concern or declining wintering populations in Puget Sound and throughout the Salish Sea.
Keywords
Derelict gillnets,
location and recovery,
marine bird mortality,
species composition,
gear characteristics,
management concerns
Publication Date
April 15, 2009
Citation Information
GOOD, T.P., JUNE, J.A., ETNIER, M.A. & BROADHURST, G. 2009. SYMPOSIUM PAPER: Ghosts of the Salish Sea: threats to marine birds in Puget Sound and the Northwest Straits from derelict fishing gear. Marine Ornithology 37: 67-76.