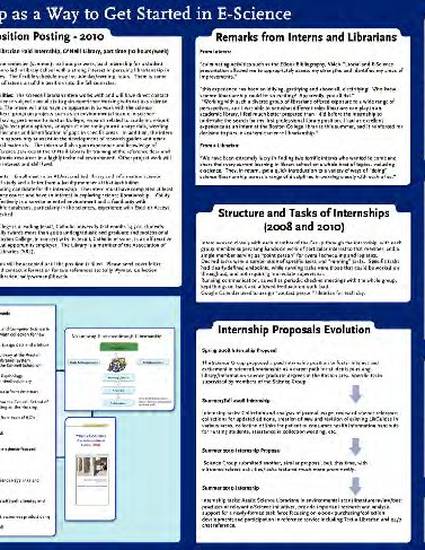 Other
Science Librarian Internship as a Way to Get Started in E-Science
University of Massachusetts and New England Area Librarian e-Science Symposium
Start Date
6-4-2011 1:00 PM
End Date
6-4-2011 2:00 PM
Description
OBJECTIVE
To demonstrate how a science librarian internship program can be used to jumpstart an e-sciences initiative in a university research library.

METHODS
Current library science students were hired, as paid interns, to work with an established Science Librarian Bibliographers Group. While the position included exposure to the wide variety of activities undertaken by science librarians, the most recent intern, arriving with a strong interest in e-Science, was also tasked with assisting in specific assignments designed to further the Library's understanding of and participation in the area of e-Science. Specifically, the intern was asked to design a brochure about e-Science, develop a faculty survey to gauge interest in library involvement in data management, assist Science Librarians in an environmental scan/best practices review of relevant e-science initiatives, to serve as a roadmap in this area for the Boston College Libraries, and, finally, to further the education of all library staff with a presentation on e-Science.

RESULTS
Building upon the intern's extensive literature review, draft brochure and PowerPoint presentation/synthesis, the Science Bibliographers' Group has continued work on next steps in e-Science, with the development of a Vision Statement and Action Plans, as well as draft faculty/student/staff survey. The intern was exposed to a wide variety of typical science librarian job functions.

CONCLUSIONS
An internship program can provide current knowledge and skills to educate and support a university research library through the early learning stage of developing an e-Sciences program, while simultaneously providing a valuable hands-on learning experience for a potential science librarian.
Keywords
internship; intern; library school student; e-Science; Boston College Libraries; getting started with e-Science; E-science initiatives,
approaches to e-Science,
e-Science needs assessment; education
Creative Commons License
Creative Commons Attribution-Noncommercial-Share Alike 3.0
Citation Information
Wanda Anderson, Margaret Cohen, Enid Karr, Barbara Mento, et al.. "Science Librarian Internship as a Way to Get Started in E-Science" (2011)
Available at: http://works.bepress.com/memorales/3/