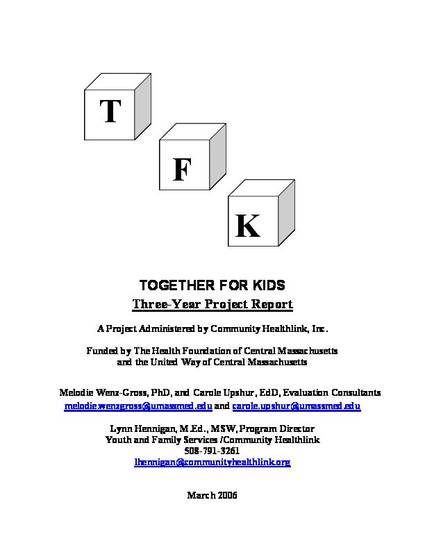 Other
Together for Kids: Three-Year Project Report: A Project Administered by Community Healthlink, Inc.
Systems and Psychosocial Advances Research Center Publications and Presentations
UMMS Affiliation
Department of Family Medicine and Community Health; Department of Psychiatry
Publication Date
3-1-2006
Subjects
Interpersonal Relations; Child Behavior; Social Behavior; Child, Preschool; Child Day Care Centers
Abstract
The Together for Kids (TFK) project, funded by The Health Foundation of Central Massachusetts and the United Way of Central Massachusetts, has been the result of the dedicated work of over 30 childcare, health care, child welfare and social service agencies concerned about early childhood mental health issues. These concerned constituents formed a coalition to address the increasing incidence of young children exhibiting challenging behaviors in preschool classrooms, as reflected nationally with current estimates ranging from 7% to 25% (Raver & Knitzer, 2002; Webster-Stratton & Hammond, 1997). These challenging behaviors typically include biting, hitting, throwing things, defying adults, or becoming withdrawn and unable to interact with others, and result in disrupted early childhood classrooms and children being expelled from programs (Grannan et al, 1999; Swanson, 2001). The problem of preschool expulsions has received national attention in recent years, and in fact a very recent national study confirmed that more children are being expelled from preschool than for all other grades (Gilliam, 2005). In Worcester, Massachusetts, there was also a concern about the growing number of public school special education students with diagnoses of emotional impairment or behavioral disorders in the early grades. The first year of the project intervention began as a Pilot to implement a mental health consultation model in two preschools and a Head Start Program, and to use two additional centers as comparison sites. In Year 2, these two additional centers that served as comparison centers during the Pilot phase also received the intervention. The results of the Years 1 and 2 showed behavioral improvement in children receiving the consultation services, as well as suggestive evidence for broader classroom positive effects. In Year 3, some modifications to the model were implemented. Families were allowed to continue with services when necessary beyond the 3 to 6 month intensive intervention. A Family Liaison was also added to the model to facilitate family engagement in the child care programs. The basic model of services, however, remained the same over the three years. This report is a summary of the results of the project, combing data from all three years to increase sample size and provide additional statistical power and confidence. We have determined there is sound evidence for clinical benefits of the TFK mental health consultation model, and the next step will be to sustain the model in child care programs using public resources. Thus, going forward, adaptations to the model will focus on how to establish universal screening and consultation for preschool families, using a ratio of one FTE clinician to 200 preschool children. Future evaluation activities will focus on sustainability issues, and documenting service delivery approaches for a generalizable model.
Source
Wenz-Gross, M., Upshur, C. & Hennigan, L. (March, 2006). "Together for Kids: Three Year Project Report." Worcester: Health Foundation of Central Massachusetts. Link to report on HFCM website
Citation Information
Melodie Wenz-Gross, Carole C. Upshur and Lynn Hennigan. "Together for Kids: Three-Year Project Report: A Project Administered by Community Healthlink, Inc." (2006)
Available at: http://works.bepress.com/melodie_wenz-gross/15/