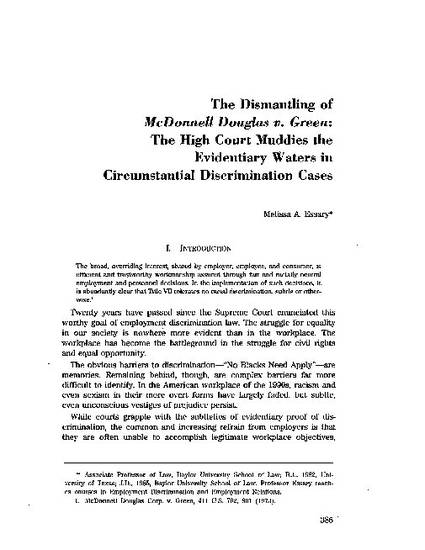 Article
The Dismantling of McDonnell Douglas v. Green: The High Court Muddies the Evidentiary Waters in Circumstantial Discrimination Cases
Pepperdine Law Review (1994)
Abstract
The broad, overriding interest, shared by employer, employee, and consumer, is efficient and trustworthy workmanship assured through fair and racially neutral employment and personnel decisions. In the implementation of such decisions, it is abundantly clear that Title VII tolerates no racial discrimination, subtle or otherwise.
Citation Information
Melissa A. Essary,
The Dismantling of McDonnell Douglas v. Green: The High Court Muddies the Evidentiary Waters in Circumstantial Discrimination Cases
, 21 Pepp. L. Rev. 385 (1994).