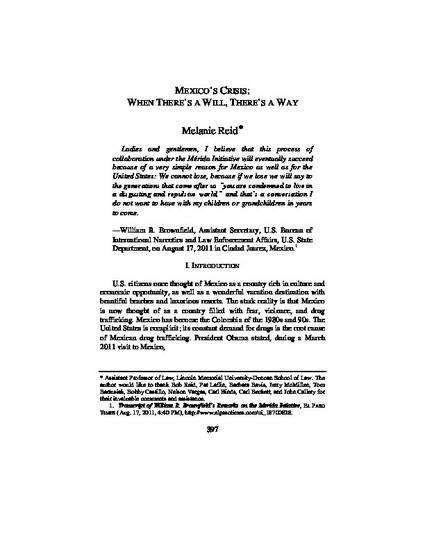 Article
Mexico's Crisis: When There's a Will, There's a Way
37 Okla. City U. L. Rev. 397 (2012)
Abstract
The United States under the Obama administration is committed to many of the tools being advocated in Mexican President Felipe Calderón's holistic approach to combat drug trafficking. This Article explores the United States' Merida Initiative policy and critiques its effectiveness. The Beyond Merida Initiative announced in 2010 revamped the prior 2007 initiatives, and provided more emphasis on additional training rather than equipment or direct financial aid to Mexico. Neither initiative corrects problems endemic to Mexico which limits the possibility of success. Corruption, anti-American resentment, and a drastically different legal system in Mexico hinder our efforts to become an effective ally in Mexico's war on the drug cartels. This article also discusses the United States' strategy of extraditing and prosecuting high level Mexican cartel members by utilizing the federal narcotics trafficking statute, Title 21, United States Code, section 959. While these 959 prosecutions have some merit, the devil-behind-the-details reveal that there are weaknesses in these prosecutions, and additional tools need to be adopted before these prosecutions can be fully effective and more regularly utilized. The success Colombia had in the 1990's in combating their drug trafficking cartels is also discussed, and how their success story could translate into enormous benefits for Mexico as Mexico grapples with a similar landscape. The article concludes with several proposals for consideration.
Publication Date
Fall 2012
Citation Information
Melanie M. Reid. "Mexico's Crisis: When There's a Will, There's a Way"
37 Okla. City U. L. Rev. 397
Vol. 37 Iss. 3 (2012)
Available at: http://works.bepress.com/melanie_reid/6/