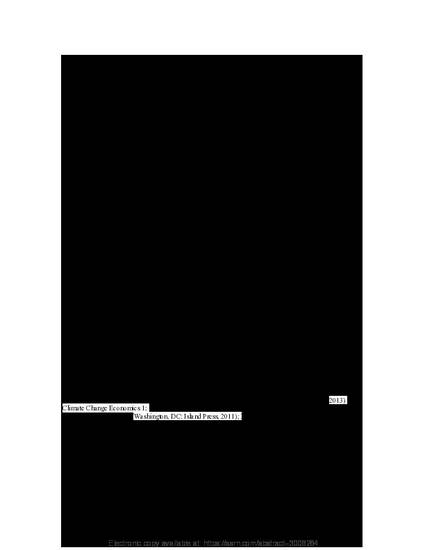 Article
Toward a Principled Design of Provincial Cap & Trade Systems: Lessons from Nova Scotia's Proposal to Meet the Carbon Pricing Requirement in the Pan-Canadian Framework for Climate Change
Articles, Book Chapters, & Popular Press
Publication Date
1-1-2018
Keywords
climate mitigation,
cap and trade,
carbon price,
complementary measures,
regulation,
Canada
Abstract
This article explores the Cap & Trade System proposed by the province of Nova Scotia in response to the call in the Pan-Canadian Framework on Clean Growth and Climate Change for all provinces to implement a carbon pricing mechanism. The proposed C & T system itself and the way it has been developed offers insights into ongoing debates in the governance of climate mitigation. The first debate is about the strength and weaknesses of various carbon pricing mechanisms, most notably the carbon tax and cap and trade systems. The second debate is about the relative importance of carbon pricing and other efforts to reduce emissions, sometimes referred to as "complementary" measures. A third deals with how to design an effective C & T system.
Publication Abbreviation
J Envtl L & Prac
Citation Information
Meinhard Doelle, "Toward a Principled Design of Provincial Cap & Trade Systems: Lessons from Nova Scotia's Proposal to Meet the Carbon Pricing Requirement in the Pan-Canadian Framework for Climate Change" (2018) 32 J Envtl L & Prac 293.