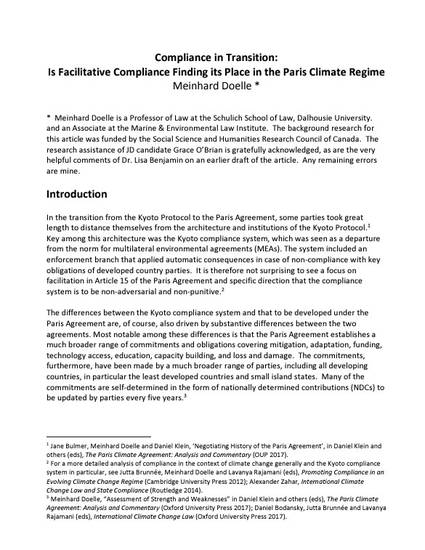 Article
Compliance in Transition: Is Facilitative Compliance Finding its Place in the Paris Climate Regime
Articles, Book Chapters, & Popular Press
Publication Date
1-1-2018
Keywords
Climate Change,
Compliance,
Paris Climate Agreement
Abstract
The paper explores the current compliance negotiations under Article 15 of the 2015 Paris Climate Agreement. The paper provides an overview of the current state of the negotiations, and considers ways to conclude the negotiations toward an effective compliance system under the Paris Agreement. In the process, the paper explores key differences and similarities between Paris and Kyoto, and identifies possible lessons from the Kyoto compliance experience.
Publication Abbreviation
CCLR
Citation Information
Meinhard Doelle, "Compliance in Transition: Is Facilitative Compliance Finding its Place in the Paris Climate Regime" (2018) 12 CCLR 229.