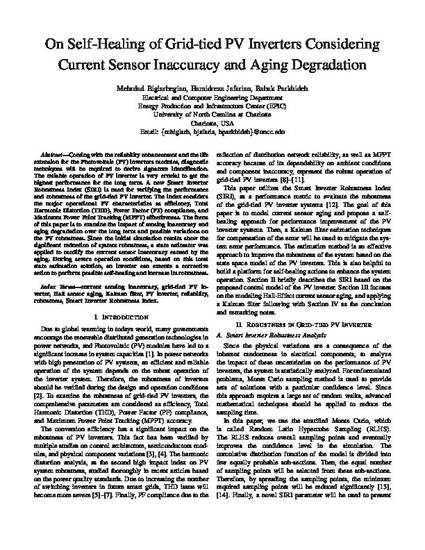 Unpublished Paper
On Self-Healing of Grid-tied PV Inverters Considering Current Sensor Inaccuracy and Aging Degradation.pdf
(2017)
Abstract
Coming with the reliability enhancement and the life
extension for the Photovoltaic (PV) inverters modules, diagnostic
techniques will be required to derive signature identification.
The reliable operation of PV inverter is very crucial to get the
highest performance for the long term. A new Smart Inverter
Robustness Index (SIRI) is used for verifying the performance
and robustness of the grid-tied PV inverter. The index considers
the major operational PV characteristics as efficiency, Total
Harmonic Distortion (THD), Power Factor (PF) compliance, and
Maximum Power Point Tracking (MPPT) effectiveness. The focus
of this paper is to examine the impact of sensing inaccuracy and
aging degradation over the long term and possible variations on
the PV robustness. Since the initial simulation results show the
significant reduction of system robustness, a state estimator was
applied to modify the current sensor inaccuracy caused by the
aging. During severe operation conditions, based on this local
state estimation solution, an inverter can execute a corrective
action to perform possible self-healing and increase its robustness.
Keywords
current sensing inaccuracy,
grid-tied PV inverter,
Hall sensor aging,
Kalman filter,
PV inverter,
reliability,
robustness,
Smart Inverter Robustness Index.
Publication Date
Summer 2017
Citation Information
Mehrdad Biglarbegian, Hamidreza Jafarian and Babak Parkhideh. "On Self-Healing of Grid-tied PV Inverters Considering Current Sensor Inaccuracy and Aging Degradation.pdf" (2017)
Available at: http://works.bepress.com/mehrdad-biglarbegian/8/