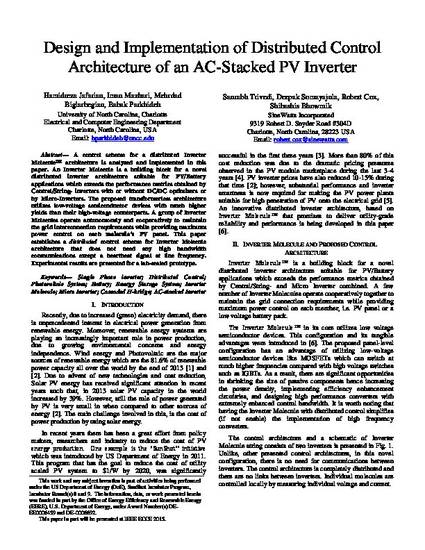 Presentation
Design and Implementation of Distributed Control Architecture of an AC-Stacked PV Inverter
University of North Carolina at Charlotte (2015)
Abstract
A control scheme for a distributed Inverter Molecule™ architecture is analyzed and implemented in this paper. An Inverter Molecule is a building block for a novel distributed inverter architecture suitable for PV/Battery applications which exceeds the performance metrics obtained by Central/String- inverters with or without DC/DC optimizers or by Micro-Inverters. The proposed transformerless architecture utilizes low-voltage semiconductor devices with much higher yields than their high-voltage counterparts. A group of Inverter Molecules operate autonomously and cooperatively to maintain the grid interconnection requirements while providing maximum power control on each molecule's PV panel. This paper establishes a distributed control scheme for Inverter Molecule architecture that does not need any high bandwidth communications except a heartbeat signal at line frequency. Experimental results are presented for a lab-scaled prototype.
Publication Date
Fall October 4, 2015
Citation Information
Hamidreza Jafarian, Mehrdad Biglarbegian and Iman Mazhari. "Design and Implementation of Distributed Control Architecture of an AC-Stacked PV Inverter"
University of North Carolina at Charlotte
(2015)
Available at: http://works.bepress.com/mehrdad-biglarbegian/5/