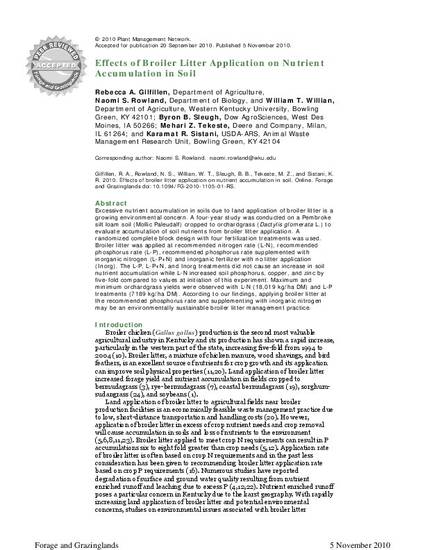 Article
Effects of Broiler Litter Application on Nutrient Accumulation in Soil
Forage & Grazinglands (2010)
Abstract
Excessive nutrient accumulation in soils due to land application of broiler litter is a growing environmental concern. A four-year study was conducted on a Pembroke silt loam soil (Mollic Paleudalf) cropped to orchardgrass (
Dactylis glomerata
L.) to evaluate accumulation of soil nutrients from broiler litter application. A randomized complete block design with four fertilization treatments was used. Broiler litter was applied at recommended nitrogen rate (L-N), recommended phosphorus rate (L-P), recommended phosphorus rate supplemented with inorganic nitrogen (L-P+N) and inorganic fertilizer with no litter application (Inorg). The L-P, L-P+N, and Inorg treatments did not cause an increase in soil nutrient accumulation while L-N increased soil phosphorus, copper, and zinc by five-fold compared to values at initiation of this experiment. Maximum and minimum orchardgrass yields were observed with L-N (18,019 kg/ha DM) and L-P treatments (7189 kg/ha DM). According to our findings, applying broiler litter at the recommended phosphorus rate and supplementing with inorganic nitrogen may be an environmentally sustainable broiler litter management practice.
Publication Date
November 5, 2010
DOI
10.1094/FG-2010-1105-01-RS
Citation Information
Rebecca A. Gilfillen, Naomi S. Rowland, William T. Willian, Byron B. Sleugh, et al.. "Effects of Broiler Litter Application on Nutrient Accumulation in Soil"
Forage & Grazinglands
Vol. 8 Iss. 1 (2010) ISSN: 1547-4631
Available at: http://works.bepress.com/mehari-tekeste/1/