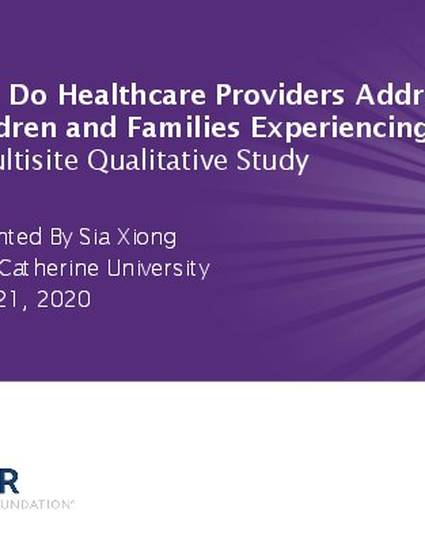 Presentation
Healthcare Providers Addressing Needs of Children and Families Experiencing Housing Instability
2020 Graduate Student Research Highlights (2020)
Abstract
Background The purpose of this study, spearheaded by the National Network to End Family Homelessness (NNEFH), was to understand the role of primary care providers who serve children and families experiencing homelessness. Specifically, we sought to describe best practices for screening for housing-unstable families and providing optimal care for these patients once identified. Methods We conducted a qualitative study employing semi-structured, in-depth interviews with clinicians and administrators working in healthcare organizations serving children and families. The selection criteria captured rural and urban locations, and three organizational types: academic health affiliates, community health centers, and Health Care for the Homeless (HCH) sites. Results We completed 13 in-depth interviews procuring both qualitative and quantitative data. Of the 13 clinics there were 4 academic health affiliates, 5 community health centers, and 4 HCH sites. Every clinic identified at least one barrier to optimum care provision, most commonly: access to reliable transportation, communication with patients, lack of affordable housing, and patient load and complexity. Conclusion This study specifically examined strategies for optimum care provision for housing-unstable children and families. Similar to existing literature on adults experiencing homelessness, the most prominent challenges reported in this study were structural and resource barriers.
Publication Date
April 21, 2020
Location
St. Catherine University
Citation Information
Meghan R Mason and Sia Xiong. "Healthcare Providers Addressing Needs of Children and Families Experiencing Housing Instability"
2020 Graduate Student Research Highlights
(2020)
Available at: http://works.bepress.com/meghan-mason/1/