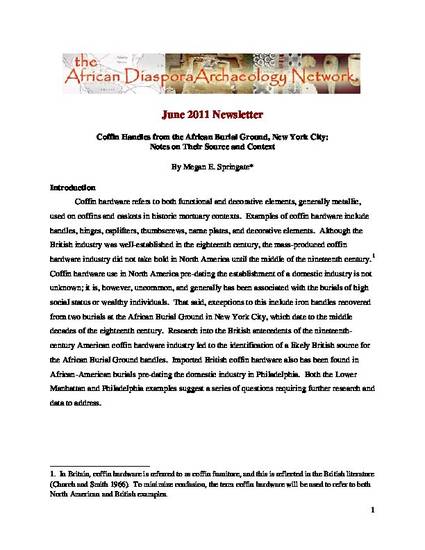 Article
Coffin Handles from the African Burial Ground New York City: Notes on Their Source and Context
African Diaspora Archaeology Network Newsletter (2011)
Abstract
Coffin hardware refers to both functional and decorative elements, generally metallic, used on coffins and caskets in historic mortuary contexts. Examples of coffin hardware include handles, hinges, caplifters, thumbscrews, name plates, and decorative elements. Although the British industry was well-established in the eighteenth century, the mass-produced coffin hardware industry did not take hold in North America until the middle of the nineteenth century. Coffin hardware use in North America pre-dating the establishment of a domestic industry is not unknown; it is, however, uncommon, and generally has been associated with the burials of high social status or wealthy individuals. That said, exceptions to this include iron handles recovered from two burials at the African Burial Ground in New York City, which date to the middle decades of the eighteenth century. Research into the British antecedents of the nineteenth-century American coffin hardware industry led to the identification of a likely British source for the African Burial Ground handles. Imported British coffin hardware also has been found in African-American burials pre-dating the domestic industry in Philadelphia. Both the Lower Manhattan and Philadelphia examples suggest a series of questions requiring further research and data to address.
Publication Date
June, 2011
Citation Information
Megan E. Springate. "Coffin Handles from the African Burial Ground New York City: Notes on Their Source and Context"
African Diaspora Archaeology Network Newsletter
(2011)
Available at: http://works.bepress.com/meganspringate/15/