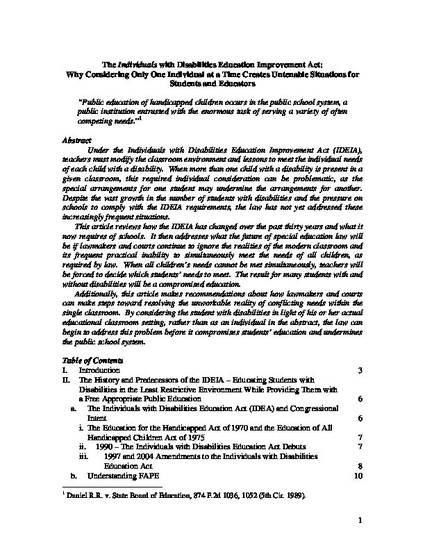 Unpublished Paper
The Individuals with Disabilities Education Improvement Act - Why Considering Only One Individual at a Time Creates Untenable Situations for Students and Educators
ExpressO (2007)
Abstract
Under the Individuals with Disabilities Education Improvement Act (IDEIA), teachers must modify the classroom environment and lessons to meet the individual needs of each child with a disability. When more than one child with a disability is present in a given classroom, this required individual consideration can be problematic, as the special arrangements for one student may undermine the arrangements for another. Despite the vast growth in the number of students with disabilities and the pressure on schools to comply with the IDEIA requirements, the law has not yet addressed these increasingly frequent situations. This article reviews how the IDEIA has changed over the past thirty years and what it now requires of schools. It then addresses what the future of special education law will be if lawmakers and courts continue to ignore the realities of the modern classroom and its frequent practical inability to simultaneously meet the needs of all children, as required by law. When all children's needs cannot be met simultaneously, teachers will be forced to decide which students' needs to meet, and the result for many students with and without disabilities will be a compromised education. Additionally, this article makes recommendations about how lawmakers and courts can make steps toward resolving the unworkable reality of conflicting needs within the single classroom by considering the student with disabilities in light of his or her actual educational classroom setting, rather than as an individual in the abstract.
Keywords
education,
students with disabilities,
dispute resolution
Publication Date
April, 2007
Citation Information
Megan M. Roberts. "The Individuals with Disabilities Education Improvement Act - Why Considering Only One Individual at a Time Creates Untenable Situations for Students and Educators"
ExpressO
(2007)
Available at: http://works.bepress.com/megan_roberts/1/